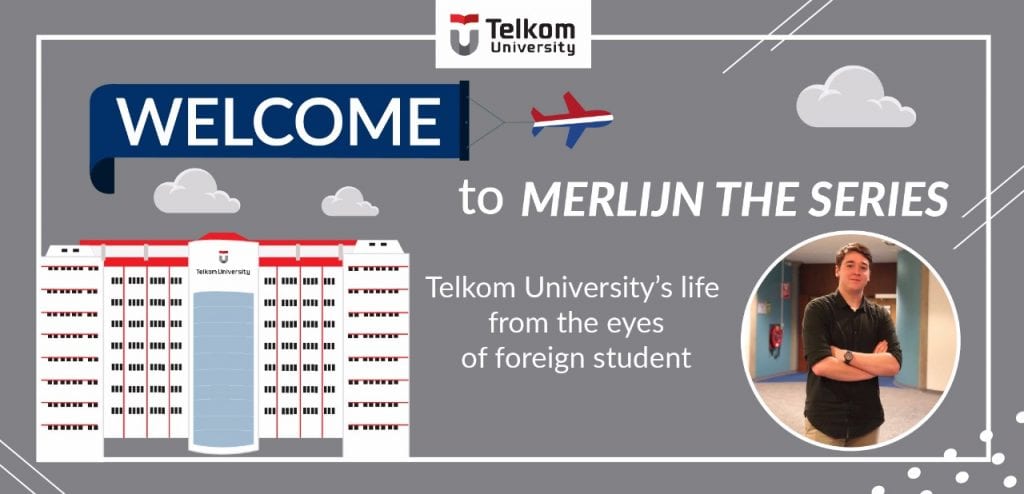 Welcome to Merlijn the Series: Telkom University's life from the eyes of foreign student.
Hello everyone, my name is Merlijn Olde Riekerink and I am an intern at the International Office of Telkom University. I will be working in the International Office for roughly 4 months.
I was born and raised in a small town called Overdinkel in The Netherlands. After having finished secondary school I went on to study International Business & Management at Saxion University of Applied Sciences in Enschede, The Netherlands. Doing an international study, I have to go abroad for 2 semesters in total. I am super excited to see what Indonesia has to offer.
During my time here I will work on the Profile of Telkom University, as well as keeping up with social media, updating the website and a few other things around the office. Most importantly, I will be making videos and write stories of what it is like being an international student at Telkom University, in Indonesia. This will be known as ''Merlijn Series''. On this series you can follow me on my journey here in Indonesia, the things I do and the memories I make. You can join me every step of the way.
I am looking forward to my time here and I hope I meet a lot of new people and make new friends. After 4 months I am planning to go home with the most amazing stories to share with my friends and family. If you want to meet me or have any other questions do not hesitate to ask.
Here are the Series:
Merlijn Series 00: Introduction
Merlijn Series 01: Culture Festival (ILCF)
Merlijn Series 02: Kawah Putih