Merlijn Series 12: Jakarta and Thousand Islands
Hi again guys, here is the Merlijn Series 12: Jakarta and Thousand Islands
Wednesday, November 14, our bus to Jakarta left at 11 O'clock. This provided us with enough time in the morning to gather our stuff and pick up laundry from the day before. We took a grab from Telkom University to the bus station and left to go to Jakarta.
Once we arrived at our hostel, we dropped our bags and went straight to one of the big shopping malls in the city. We had sushi for dinner and a delicious ice cream for dessert. After shop wandering around in the mall we headed back to our hostel to get a good night rest, because the next morning we had to wake up very early. Fun fact, we slept in small cubicles of about 2 meters longs, 1 meter wide and 1,50 in height, a unique experience for sure.
Thursday, November 15, 5:45, the alarm goes. We get our bags, have breakfast and book a grab to the harbour, we are going to Thousand Islands! We quickly browsed through the options and eventually opted for Tidung, an inhabited island roughly in the middle of it all. We took the speedboat with a couple of other people and arrived at the island around 10 O'clock.
We booked an extra snorkeling trip so that's what we did first. Together with three businessmen from China we got on a small boat and went to a small place just off the coast. Once in the water we could swim with hundreds of beautiful fish and enjoy the coral reef beneath us. We did this for about 30 to 45 minutes before heading back to land to get on the banana boat that was included. The first two rounds went quite slow, however, the third time round we all fell off within 10 seconds.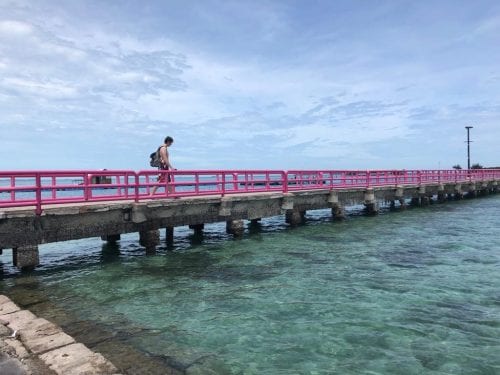 We continued our day with walking across the pink bridge to small tidung. It was very hot so we stopped along the way to enjoy the shade and take a few pictures. Even though small Tidung is part of the inhabited island, there are hardly any people there. We walked along the island up to a small little beach with a swing, we even saw a view turtles here. We relaxed for a bit before heading back on the boat to Jakarta.
Back in the hostel we all got freshened up and went out to get dinner. Just a few minutes walk was Cafe Batavia, which was originally a Dutch building. Once you enter you immediately get this colonial vibe. The atmosphere is amazing, the restaurant looks stunning and lovely music is played in the background. On the wall were pictures of famous artists, musicians etc. We enjoyed a delicious dinner with a view on the old government building which is now a museum, we felt like a million dollars.
When we got back to our hostel we talked a bit with some a few backpackers who had either already travelled through Indonesia or who had just started their journey. It was a very active day so we were all quite tired. We hopped in our beds and goodnight!
Wherever I go people ask me what it is I am doing in Indonesia. Whenever I say I am doing my internship and these trips are part of it everyone is amazed. It is indeed, the best internship I could wish for.
Friday, November 16.
We met a kind Chinese woman who lives in Sydney who wanted to accompany us on a tour throughout Kota tua, the old part of the city also known as Batavia. The tour is a bicycle tour but we decided to walk it.
The tour was called Sunda Kelapa and started in the middle of the Fatahillah square. It took us to various historic buildings and places, multiple musea and some restaurants and cafes. It was definitely an interesting tour and it is really cool to see the old buildings that are still in tact to these days. It was very hot that day so we took a grab for the last stop in the harbour. The last stop was Batavia Marina, a stunning old building with an amazing view over the ocean. We were the only ones there and had a wonderful lunch on the rooftop terrace.
Closeby was Seaworld, we booked a grab and got dropped off at the entrance. We bought a combo ticket for both seaworld and the park across which was full of shows. After walking around and seeing hundreds of fish, ranging from sharks to eels and even sea turtles we went to see the shows. We saw a water stunt show, a sea lion and a dolphin show before heading back to the hostel. That evening we had dinner inside a mall once again. We tried to get to the cloud lounge, but we wore flip flops, so we got denied access. We then decided to just head back and go to bed.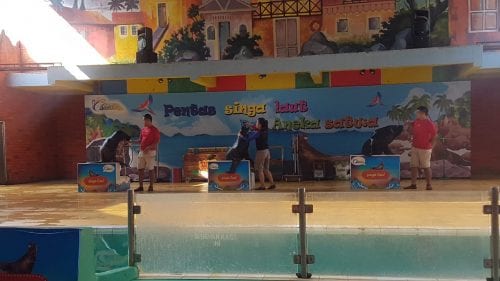 Saturday, November 17. We put on our swimsuits and went to Waterbom. The waterpark is home to various kinds of slides, with small tires, big tires and no tires at all. Our favourite has to be the big tire were you sit with a max of 4 people inside one big tire that goes down a steep slide. We had a lot of fun and relaxed in the lazy river as well. It was once again extremely hot that day so we were very happy to be able to cool off in the pool.
That evening we had dinner plans with a fellow student from Telkom University. Beforehand, we went to a small souvenir shop to get a few souvenirs for our family and friends. The original plan was to go to Hanamasa but it was fully booked for the night. Lucky for us, there was a Japanese styled restaurant just across. We had dinner, wandered through the mall a bit and  then went our separate ways. We got Starbucks for dessert and went back to the hostel to pack our bags because we were leaving the next day.
The next morning, before our bus back, we went to Chinatown. The big market was still closed but in a street next to it was a food market with a few souvenir stalls as well. Chickens were taken out of cages and butchered right there in the streets, it is a unique experience to witness something like this. A lot of things were being sold of which I had no idea what it was. It was a lot of fun walking through this small chinatown.
Just before our bus left, we popped in another souvenir shop and got our hands on the last few things we wanted from Jakarta. We then got in the bus and about two hours later we arrived in Bandung and took a grab to Telkom University
We had an amazing time in Jakarta and I highly recommend everybody to visit Kota Tua. Trips like these are the best part of my internship here at Telkom University.