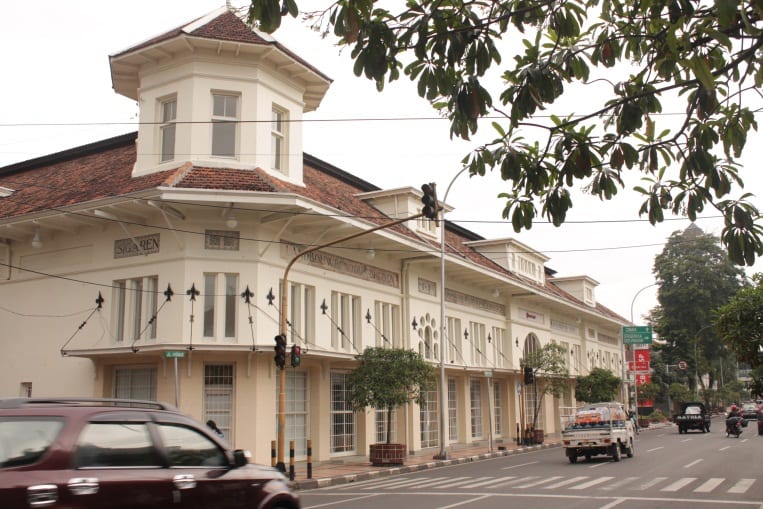 Living in Bandung will become one special experience not to be missed out. Bandung is the capital city of West Java province in Indonesia and the third largest populated city with a sprawling urban population of 8.6 million in 2011. Located 768 metres above sea level, Bandung has cooler temperatures year around than most other Indonesian city. On Dutch colonial, they often said Bandung as 'Parijs van Java' as Bandung remind them to the capital city of French, Paris. Bandung also earned another nickname as Kota Kembang, literally meaning the Flower City since Bandung used to have a lot of flowers.
CLIMATE
Bandung city has tropical highland rainforest monsoon climate. Like any other city in Indonesia, there were dry season on June to October and rainy season on November to March.
WHY YOU MUST CHOOSE BANDUNG
Indonesia have more than 200 city, and each city is beautiful in its own way. Bandung, has some uniqueness that will make you fall and want to live in here:
Bandung is a home for classic architecture.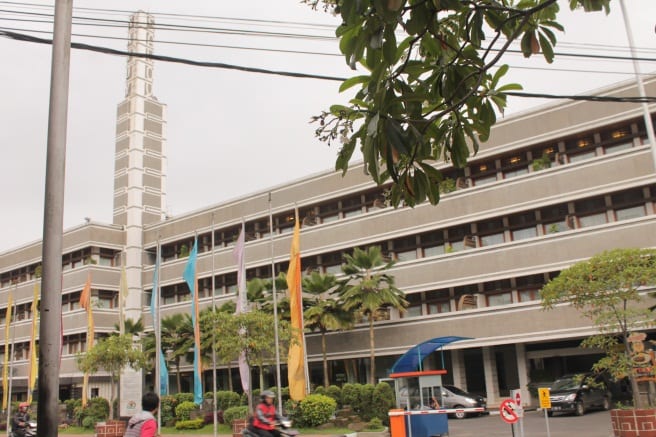 Bandung is home to numerous examples of Dutch colonial architecture; most notably the tropical Art Deco, dubbed New Indies Style. Henri Maclaine-Pont was among the first Dutch architects to recognize the importance of combining each architectural style with local cultural traditions. He stressed that modern architecture should interact with local history and native elements.
In 1920, Pont planned and designed buildings for the first technical university in the Dutch East Indies, Technische Hogeschool te Bandung (the present-day Institut Teknologi Bandung), after which he was named as a professor in architecture at the university. A striking local Sundanese roof style is clearly seen adorning the top of the campus' ceremonial hall, embedded in his artwork.
            The modern and native architectural blending was followed by several Dutch architects that have shaped the city landmarks. In the 1930s, Bandung was known also as the city of architecture laboratory because of the many Dutch architects who experimented with new architectural designs. Albert Aalbers added the streamline moderne style to the Art Deco by designing the DENIS bank (1936) and renovated the Savoy Homann Hotel (1939). C.P.W. Schoemaker was one of architects who strongly added native elements in his artworks, including the Villa Isola (1932), Hotel Preanger (1929), the regional military headquarter (1918), Gedung Merdeka (1921) and ITB Rectorate Building (1925)
Bandung is a capital city for Asia-Africa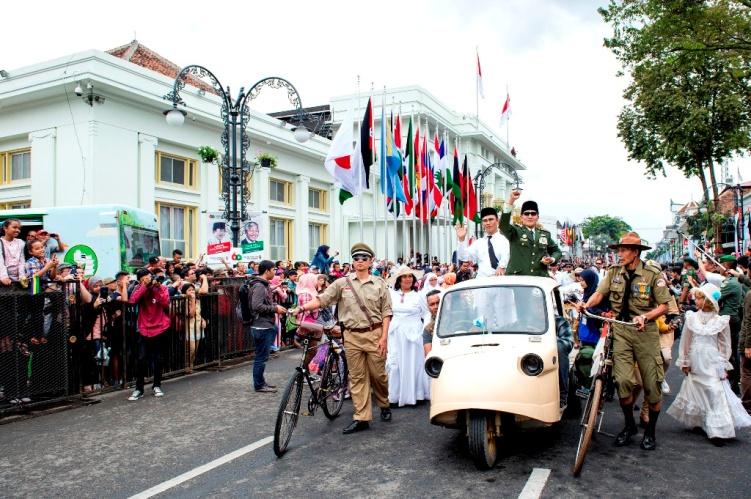 Asian-African Conference in 1955 marked an important milestone in the history of Asian and African countries. The delegates from 29 participating countries gathered in Bandung, Indonesia to discuss peace, security, and economic development in the midst of emerging problems in many parts of the world.
Fifty years after the conference, Indonesia successfully hosted the Commemoration of the Golden Jubilee of the Asian African Conference. The Spirit of Bandung was finally revived, and plans were made for future cooperation between the two continents. All participants who gathered on the 22nd to the 24th April 2005 in Jakarta and Bandung were convinced that the Spirit of Bandung endured as a solid foundation to nurture better relations amongst Asian and African countries and to work towards resolving global issues. The commemoration led to the creation of the New Asian African Strategic Partnership (NAASP). And the result stated that Bandung as a capital city of Asia Africa Continent.
Bandung has various tourism object
Located 768 metres above sea level, Bandung offers you a mountain view with cool air that fit if you want to go around Bandung city. There were several tourism object that you have to visit in Bandung
Kawah Putih & Tangkuban Perahu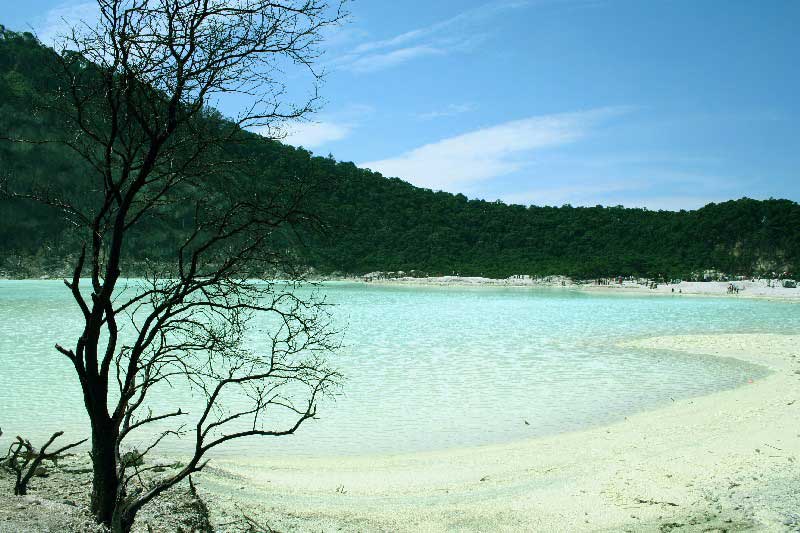 The surrounding area is heavily forested. There is a pathway down to the lake which is surrounded by the high walls of the crater nestling into the side of Mt Patuha. The smell of sulfur is strong because there is a good deal of steam and sulfurous gas bubbling from the lake. There are tracks around the lake and through the nearby forest including to the peak of Mt Patuha. Visitors can walk around the crater area or sit in the various shelters. Local plants not widely found in lower altitudes in Java include javanese Edelweiss and Cantigy (Vaccinium varingifolium). Animals and birds which may be spotted include eagles, owls, monkeys, mouse deer, and forest pigs. Panthers, leopards and pythons have also sometimes been seen in the nearby forest.Kawah Putih and Tangkuban Perahu is two of tourism object that are well-known in Bandung. Kawah Putih, that placed in Ciwidey is one of the two craters which make up Mount Patuha, an andesitic stratovolcano (a "composite" volcano).
Tangkuban Perahu Mt. is on the Northern side of Bandung, near Lembang region that well-known as interesting parks for children and family. This mountain is still an active volcano, last eruption is on 1983. It is a popular tourist attraction where tourists can hike or ride to the edge of the crater to view the hot water springs and boiling mud up close, and buy eggs cooked on the hot surface.
Dago, Riau, Cihampelas, Cibaduyut
The more up-market fashion stores include the many emporiums on Jl. Dago and Jl. Riau.  The leftover exports clothes or accesoris (rejected export products), and factory outlets are prolific and have a very wide range of export quality items. But, today the leftover is limited, and factory outlets dominated since many International store open in Indonesia. These are sometimes available in the larger sizes that may be suitable for some visitors.Shopping for clothing and accessories is the main reason many weekend visitors and tourist travel from all region in Indonesia. Many items are less expensive than in Jakarta. Denim (jeans) stores are centered along Cihampelas street. These became very popular in the 90s with unique facades built to attract people. You can buy many type of jeans, the cheaper one 'till the expensive.
 The new trend are the distro (distribution outlets). Luxury labels are often available but for those the extensive upmarket malls in Jakarta may be more suitable with a much larger range, however they are often more expensive.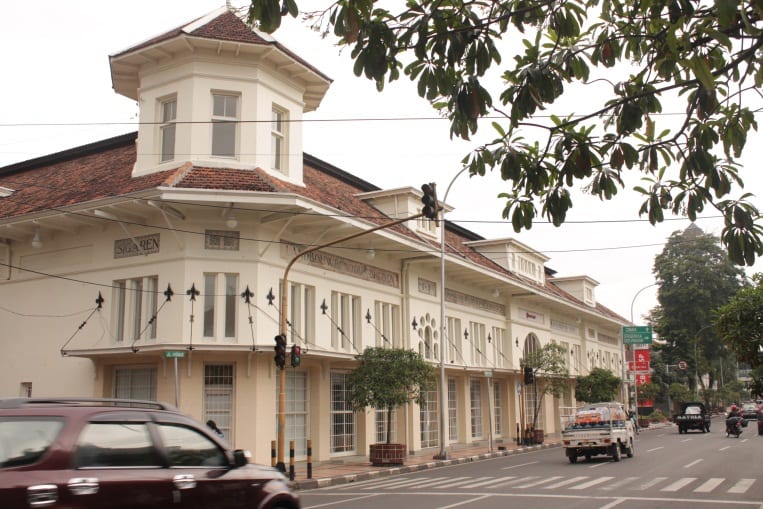 Asia-Africa Commemoration on 1955 that take places in Bandung make Merdeka and Braga Street have another value for Bandung and Indonesia. Placed in Merdeka Street, Merdeka Building become witness how Asia and Africa united to fight the colonialism and imperialism. After 60th year, Asian African Commemaration back in a new spirit for Asia African as one. Merdeka street has changed and become one of favorite tourism object in Bandung.
Braga Street is a small street in the center of Bandung city, Indonesia, which was famous in the 1920s as a promenade street. Chic cafes, boutiques and restaurants with European ambiance along the street had made the city to attain the Paris of Java nickname. The street starts from a T-junction with the Asia-Afrika Street (or De Groote Postweg during the colonial times) to the north until the city council (balaikota), which was formerly a coffee warehouse. Art Deco, come from Netherlands, influence sense of building in Braga, Asia Africa and Merdeka street. In the 1900s, along with the Dutch East Indies government plan to move the capital from Batavia to Bandung, the government included Braga Street into part of town planning. In 1906, the city council began replacing stone by asphalt and applying a new rule of designing new buildings at the street. Art Deco buildings began to decorate the street and about 50% of which are still present with their original architecture.
What should we eat while in Bandung?
Bandung city is famous for food lovers. Not only traditional culinary, but also modern food even fushion between the two!
Traditional culinary:
Nasi Bancakan
It's located in the center of Bandung City. If you want to experience the traditional way to eat sundanese food, just come here! You can choose your food from many different types of food they offer, from appetizer to dessert, they have it all. What makes it different from other sundanese restaurant is how they served the food in a Iron plate! Once you chose the food, they will re-heat it, so you can have it while it's hot. Don't underestimate the taste just because the cheap price, because Nasi Bancakan famous not only between Bandung's local but also people from other cities. Every weekend it's crowded with people who want to eat delicious food and spend time with their family.
Location:         Jalan Trunojoyo No 62 Bandung, Jawa Barat Indonesia
Open Hour:     Everyday (10:00 – 22:00)
Iga Bakar Si Jangkung
IT'S ALL ABOUT RIBS! They serve cow or goat ribs in Indonesian taste that you will never forget. It's a street vendor stall but taste very good! They serve it in "cobek" Indonesian mortar.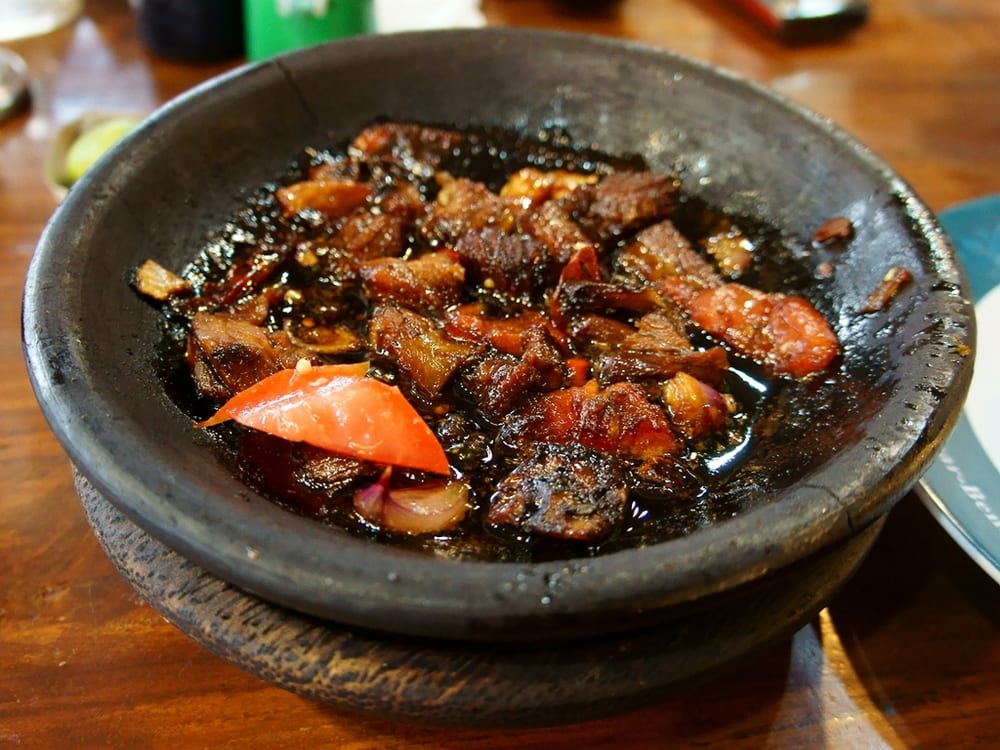 Location:         Jln. Cipaganti no 75G, Bandung, Indonesia
Open Hour:     Everyday (11:00 – 23:00)
Mie Kocok "Mang Dadeng"
This is one of Bandung delicacies, it existed since 1958. It's a thin yellow noodle with beef broth, bean sprout, cow calves (it's melt in your mouth) and squeeze of lime juice. It may sound a little bit off, but wait until you taste this favorite food of Bandung locals.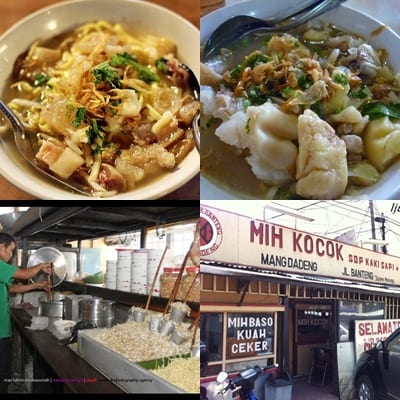 Location:         Jl. Kyai Haji Ahmad Dahlan No. 67, Turangga, Lengkong, Kota Bandung (In front of Horison Hotel)
Open Hour:     Everyday (09:00 – 22:00)
Warunk Upnormal
Do you familiar with Instant Noodle? You will see Indomie, Supermie, Mie Sedaap, and other brand of Indonesian instant noodle. Here they serve it in another level (a good one!). You won't find any regular Instant noodle, but fusion between traditional and modern taste.  Beside noodle they offer rice menu, toast with different choices of topping, many flavors of milk and also good quality of coffee.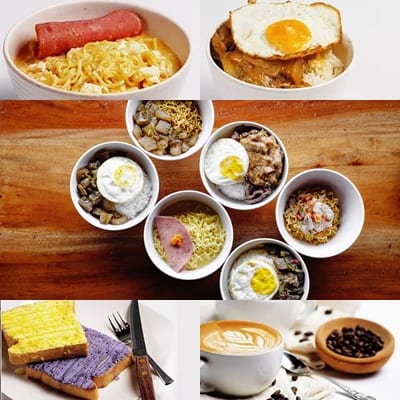 Locations:
Jl. Cihampelas No. 74
Jl. Cihampelas No. 56A
Jl. Buahbatu No. 201A (Near Campus)
Jl. RE. Martadinata (Riau) No. 114
Cihampelas Walk  (Mall)
Jl. Braga No. 78 Bandung
Open Hours:    Everyday (every location has different open hour, Usually open at 10:00 AM – 01:00 AM)
Gado-Gado Tengku Angkasa
Vegetarian friendly alert!! Gado-gado is a bunch of boiled veggies, tofu and Indonesian rice cake, "lontong", served with peanut sauce (you can add level of spiciness from not spicy until very spicy), hard boiled egg (for vegetarian  you can ask no-egg version) and "kerupuk" Indonesian chips. Even though it's famous for Gado-Gado, they also sell "Nasi Rames" rice with many side dishes of your choice. You can also enjoy a street live music performance while eating gado-gado!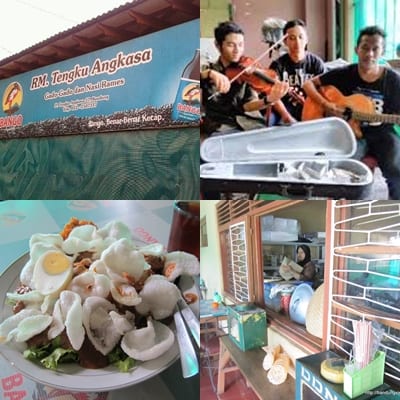 Location:         Jl. Tengku Angkasa No.37, Lebakgede, Coblong, Kota Bandung
Open hour:      Everyday (08:00 – 17:00)
Café specialties:
Seorae Korean Grill
They serve authentic Korean grill and other Korean food, such as Bibimbap, Dakgalbi, Gyeranjjim, Kimchi jiggae, and even Patbingsoo. For Korean who misses their comfort food you can come here.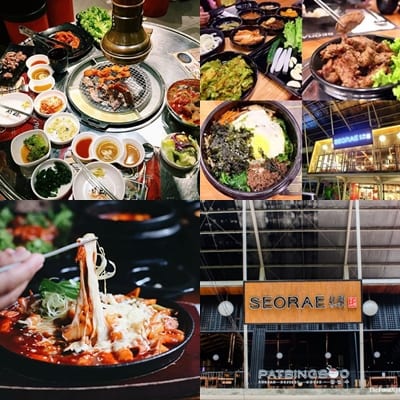 Location:         Jl. Dr. Setiabudi no 49-51, Bandung
Open Hours:    Everyday (11:00 – 22:00)
Sushi Tei
Sushi Tei is famous for their fresh sashimi and also rotate plate, where you can pick foods that you want and every plate has a different color to differentiate the price.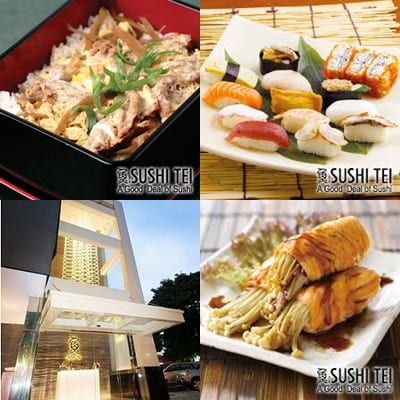 Location:         Jalan Sumatra No. 9 Bandung
Open Hour:     Everyday (11:00 – 22:00)
Shabu Hachi
For those of you who are a big eater, this "all you can eat (AYCE)" restaurant is for you! They offer a Japanese style shabu-shabu and yakiniku which serve with different type of delicious broth (you can choose) and sauces. This AYCE restaurant including unlimited meat, veggies, drinks and desserts. It's totally a great deal!
Location: Jl. Cilaki No.41, Cihapit, Bandung Wetan, Kota Bandung, Jawa Barat 40114
Open Hours: Everyday (10 AM – 10 PM)
Eat Boss Café
This café is famous between students in Bandung, because of their very very very affordable price yet tasty! They serve not only Indonesian food, but also pasta, steak and cake. They're famous for big-portion of menu. They have 1 meter pizza and super big burger (bigger than size of adult head!) which can be enjoyed up to 4 or 5 person.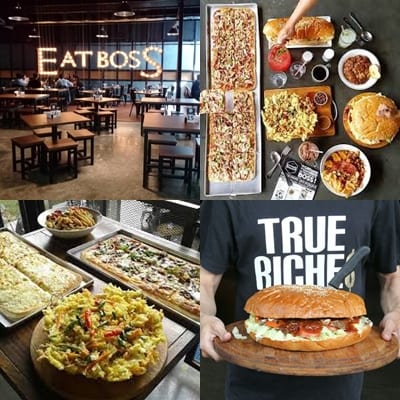 Location:         Jalan Ir. H.Djuanda No. 72, Lebakgede, Coblong, Lebakgede, Coblong, Kota Bandung
Open hour:      Everyday (9:00 – 23:00)
Karnivor Restaurant
Do you want a high quality steak with low price? Karnivor has it! This jungle-cowboy theme restaurant offers you a delicious and tender steak with cheap price. This is also a good place to hang out with your friends, because they offer a big portion menu that can be eaten together. This restaurant is beautiful especially at night.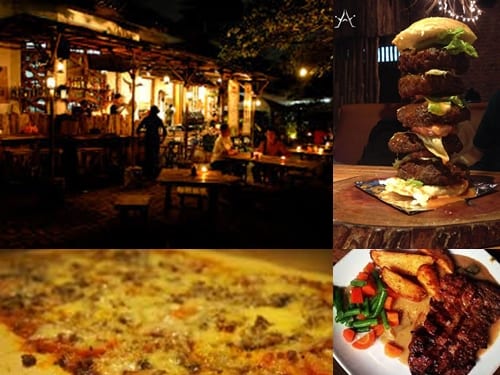 Location:         Jln. Cipaganti no 75G, Bandung, Indonesia
Open Hour:     Everyday (12:00  – 01:00 (after midnight) )
Transport Alternative

Traffic? No problem!

Nowadays the biggest problem that Bandung faced is traffic, there are 1.25 million vehicles passing by every day, EVERY DAY! If it's long time ago, sure you have to worry, but now we have taxibike or we called it "ojek". It has the same system with taxi in general, but the vehicle is motorcycle. "Ojek" already existed for a very long time in Indonesia where you have to walk or find "ojek" spot near your area and sometimes it's pricey because the driver just assume how much fee you have to pay, but with development of technology, now it came in a form of application that you can install in your smart phone. There are several online transportation apps that you can choose, but the most familiar in Indonesia is Go-jek. You choose your destination and it will estimate how much money you have to pay automatically (according how far you go, and it's a reasonable price so you don't have to worry) and the Go-jek driver will pick you up, wherever you are which is so convenience.

What is the difference between cash and Go-Pay?

Cash is where you pay the money directly to the driver where Go-Pay is a virtual wallet. To use Go-Pay you have to make sure the money in your account is sufficient. How to add money in my Go-Pay?

Now you have a solution to fight the traffic! Save your precious time!