Data Science Undergraduate Program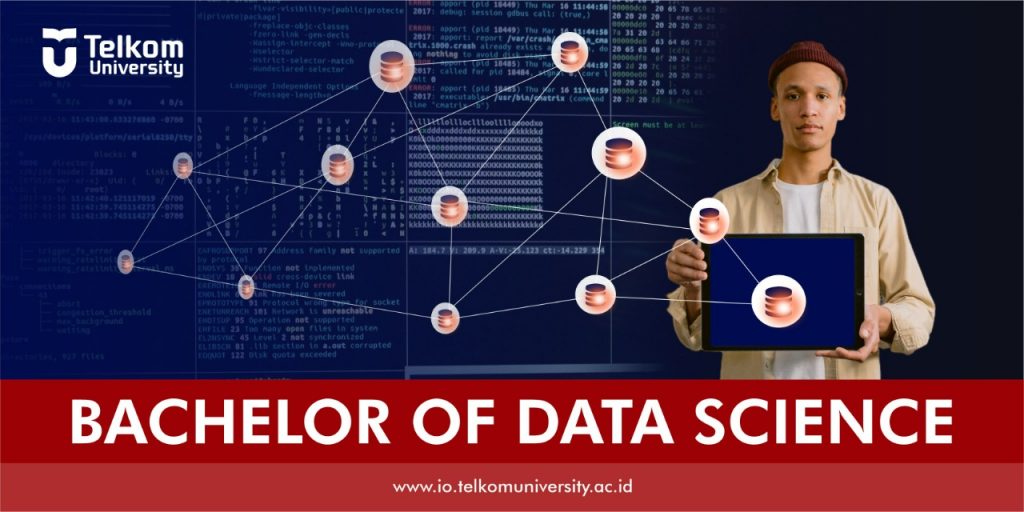 Building                       : Gedung Panambulai
Address                       : Jl. Telekomunikasi No. 1, Terusan Buahbatu, Bojongsoang Bandung 40257, Indonesia
Telephone number     : (022) 7565931
Website                       : https://bds.telkomuniversity.ac.id/en/
Email                           : [email protected]
Data Science Brief Description
Under the Telkom University Data Science Study Program, students will be well-equipped to face one of society's most significant challenges: how to utilize the information in the vast amounts of data collected in fields/domains like digital business, finance, environment, and social media. The Data Science Undergraduate Study Program is based on an interdisciplinary background, allowing the student to be proficient in data science.
It is closely related to the era of big data in the fourth industrial revolution. It deals with data volume, variety (various types of data including text, numbers, and video), and speed (dynamic collection and the need to process data). Exploring knowledge and insight from data necessitates inter-disciplinary skills, mastery of tools or modifications for specific problems, and a profound understanding of Data Science's methodology. This program will provide knowledge and comprehension of a combination of theoretical foundations and practical experience, beginning with problem definition, data extraction, pre-processing, analysis, and the communication of analysis results and data insights.
Data Science Vision:
To become an undergraduate program with a national and international reputation for providing innovative solutions in the field of Data Science, particularly Big Data Analytics, through education, research, and community service.
Data Science Mission:
Implementing and developing undergraduate education programs of international standard in the field of Data Science, particularly Big Data;
Conducting internationally recognized research through the development and dissemination of science and technology in the field of Data Science, particularly Big Data Analytics;
Utilizing science and technology in the field of Data Science to perform long-term community service for the nation's benefit.
Data Science Objectives:
Data science combines computational and inferential reasoning to conclude a real-world data-based phenomenon. Using their knowledge of statistical inference, computing processes, data management strategies, domain expertise, and theory, graduates of degree programs in Data Science can draw reasonable conclusions from data in context. Students learn to conduct data analyses in scientific and practical settings throughout the entire investigative process cycle.
In addition, they gain an in-depth comprehension of the social and institutional structures and practices that shape the technical work surrounding computing and data, as well as how data, data analytics, machine learning, artificial intelligence, and computing permeate and shape our individual and social lives.
Data Science Learning outcome:
Capable of identifying and formulating problems in the field of Data Science using science and mathematics to derive new insights from data.
Capable of applying engineering principles and computer technology to conduct experiments, research, and application design, particularly in big data analytics.
Capable of implementing strategic management of data collection, storage, and maintenance and ensuring data availability for further processing.
Applying logical, critical, systematic, and creative thought in developing or implementing science and/or technology according to their area of expertise.
Assessing the implications of developing or implementing science and technology by their expertise, based on scientific principles, procedures, and ethics, in order to generate solutions, ideas, and designs, and compiling a scientific description of the results of their studies in the form of a thesis or final project report.
Making appropriate decisions in the context of problem-solving in their area of expertise, based on an analysis of information and data
Having ability to select the appropriate technique in big data analytics and utilize the available tools to optimize the resolution of specific data problems.
Capable of identifying and utilizing tools and applications for data collection, data management, and big data analytics.
Capable of developing a data management plan that meets the organization's needs while considering security and ethics.
Data Science Courses: https://bds.telkomuniversity.ac.id/en/rencana-studi/
(IO)***