Merlijn Series 05: Bali part 02
Continue the Merlijn Series 05: Bali part 02, Day 4.
Our fourth day in Bali(Monday, September 10) was my birthday! Since it was my birthday my wife had planned the entire day. We had breakfast and got picked up at the hotel at 9:30 to get to ''Red Paddle'' close to ubud.
Once we arrived at Red Paddle we got a locker to put our stuff in and we were taken to the first drop off. Due to some miscommunication we got dropped off at Rafting first even though we wanted to go ATV riding before rafting. They helped us perfectly and within half an hour we were at the other location to go ATV riding.
We put on our boots and helmet, got on our ATV and went for a little test drive. After we had successfully completed the test drive we went to the ATV course in the woods. There was an entire sort of circuit build for us to ride on with turns, ups and downs and through the water. It was a very cool experience. We got to go crazy on the course for about an hour or an hour and a half before going back to the main camp.
Arriving back at the camp we got a little bit of food before heading over to our next stop: Rafting. We met with our captain and got dropped off. From the drop point to the starting point for rafting was still a pretty long walk, especially because we had to go down 400 steps! Once we arrived at the bottom, we got a few instructions on what to do in certain situations and we started our journey. Going down the Ayung river is a magnificent experience. The river is about 20 meters wide I would say and there are cliffs on both sides over 50 meters high completely covered with trees and bushes. On certain points there were rock cravings along the sides. The total journey was 12 kilometers which took us about two hours to complete.
After rafting we got dinner and were later brought to a spa. It started off with a full body massage of about an hour. All the muscles in my body got loosened up real good. The massage was then followed by a scrub, the scrub was rather cold but it did take off all the old skin cells off of our body. Once we were finished with the scrub, we got a flower bath. The bath was already filled with hot water, flowers and lime slices. It smelled amazing and the bath was wonderful. To finish the day we got a cup of ginger tea, which was delicious.
We were then brought back to our hotel at about 20:00. We decided to head over to the beach to walk across the stores for an hour before packing our stuff and going to bed.
Merlijn Series 05: Bali part 02, Day 5.
Our final day in Bali(Tuesday, September 11) had arrived. We once again went to the breakfast area but unfortunately got there a bit late. All of the breakfast buffet was gone. Luckily, the staff at The Yogasari is extremely kind and the chef offered to bake us an omelette with some potatoes on the side.
After finishing this delicious fresh omelette we got our stuff from our room and went to the front office where we could store our bags for the day. We got on our scooter and drove to Dreamland beach in the south of Bali. When we got there, it was flood, the waves were really high and crossed most of the beach. We sat down on our bean bags for a little while before going into the ocean. Unfortunately, Anne got hit by a rock and had a cut in her foot so we went to take a shower, cleaned the wound and headed for Double Six beach.
At Double Six beach we rented two surfboards and gave surfing one more try. Anne got quite good at keeping her balance on the board and came pretty far each time. I on the other hand, fell every time after just two or three seconds. After trying and trying for about an hour we got really tired so we went back to our chairs where we relaxed for a little while. Some time later, we got tired of just sitting around so we got up, went to our scooter and started looking for a good restaurant for dinner.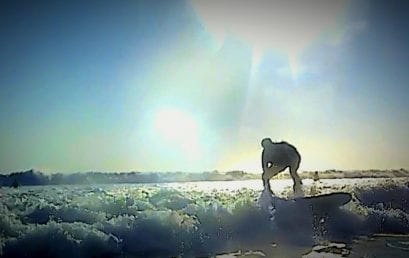 We drove past dozens of restaurants before deciding on the italian place we saw at the beginning. We turned around and missed the turn about three times. Once we finally got to the restaurant we sat down and had a delicious dinner, I had a margherita pizza and Anne ordered spaghetti bolognese. We were in a hurry so only half an hour later we were already on our scooter back to the hotel to collect our bags.
We got our bags, gave the keys of the scooter to the front office and got into our grab. We arrived at the airport still on time and went through security rather quick once again. We went to Starbucks to have a drink and another snack before our flight. Our flight was delayed slightly so we decided to browse the stores at the airport for any last-minute souvenirs. The only thing we bought however, was a sticker for on our luggage to remind us of our time in Bali.
At about 20:30 our plane took off and we landed in Bandung one and a half hour later. We ordered another grab which dropped us off at the gate in front of Gedung Bangkit. We took our luggage, walked to our dormitory and went straight to bed.
We had an amazing time in Bali and we are planning on going back when we have the chance. To everyone of you who has the change, I highly suggest you visit Bali and do some fun activities and sightseeing. We had a blast, so will you.
Stay tune for the upcoming Merlijn Series!