Merlijn Series 06: Lite Event
Last Thursday(September 13, 2018) I went to the 2018 Lite Event at Telkom University. This years theme was ''Literacy beyond the words''. The overall event lasted about two and a half hours and was an absolute blast.
Lite event started with a talk show. The talk show was held with Dengarkan Dia, a duo famous for their writing, movie and music. During the talk show the two would talk about their book and how they turned it into a movie. Their story is wonderful, they met quite young and became good friends, after some time they decided to actually get together and eventually married each other. It is a story about friendship and love. After some time, students from the audience were allowed to ask a few questions. Thanks to some help of a friend I could understand it a little bit and some questions were really funny.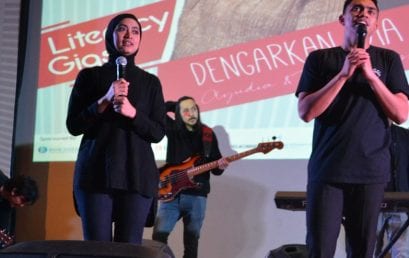 Following the talk show was a live performance by Syarif & Friends. They performed beautiful calm and relaxing music. They played a few songs and the entire audience was silent and calm. He plays the guitar with a lot of passion, which was clearly visible during the performance.
Following this act was the main performance by Dengarkan Dia. The moment they set foot on stage, the entire crowd went wild. They started singing and I was actually amazed, coming from The Netherlands I had never heard of them before, but they were really good. They played several songs and with each song the audience got more and more involved and started singing along. During one of their slower songs, everyone in the audience turned on their flashlight which created a wonderful view. The overall performance lasted about an hour and was a big success.
Once again I was lucky enough to attend such an event. Just like the previous events I went to. I met new people and had a wonderful time. The beautiful thing about music is that you do not have to understand the lyrics to enjoy it, I did not understand a word of what they were singing, but i still loved it.