Merlijn Series 05: Bali part 01
Here we go pals, Merlijn Series 05: Bali part 01, Day 1.
Since I wanted to celebrate my birthday in Bali, we decided to make it a 5 day trip to see all the amazing things Bali has to offer. We  left on Friday, September 7.
We got up at roughly 6:00, packed the last few things, had breakfast and then we went to Gedung Bangkit to wait for our grab to the airport. We arrived at the airport at about 8:00, our flight was scheduled at 10:20 so we still had plenty of time to relax. We got through security really fast and went on to Starbucks for a cup of coffee and a croissant. Unfortunately our flight was delayed so we flew to Bali at 11:00.
Arriving at Bali, we were greeted by our taxi driver who would take us to our Hotel. We stayed at The Yogasari in Seminyak and we got there pretty quick. The room was really comfortable with a separate kitchen and bathroom. The hallways to the rooms were decorated with green plants and flowers. At the center of the hotel was a pool and the breakfast area were we went each morning to, you guessed it, have breakfast.
After we unpacked our bags and changed, we booked a grab towards the Tanah Lot temple just a few kilometres north of where we were staying. Ordering a Grab in Bali is a little bit harder than in Java because there are certain areas where Grabs are not allowed. Due to this, we had to walk a few minutes before we got to an area where it was ok for us to be picked up. After a long drive(a lot of traffic) we finally arrived at the Temple.
The Temple is located on the backside of a giant rock and covered by bush and trees. When we got there, the water was still pretty low, but by the time we were done, flood had come and the entire path we just walked was covered by water. Below the temple is a small holy spring, Anne and I went there and we got sprinkled with holy water, had rice put on our forehead and got a flower behind our ear, this was a rather unique experience.
After having a look around the temple we went to the sunset terrace to have dinner and watch the sun set. I ordered a grilled crab, I had never eaten a whole crab before so it was quite a challenge to eat it. After a bit of struggling I finally got the meat out and it tasted absolutely delicious. During our dinner the sun started to set, and the view from the terrace was absolutely magnificent.
Shortly after finishing our dinner we went back to the hotel and straight to bed. Our first day had already been a successful one. If anyone decides to go to the Tanah Lot Temple, I highly suggest you do it during sunset, it is wonderful.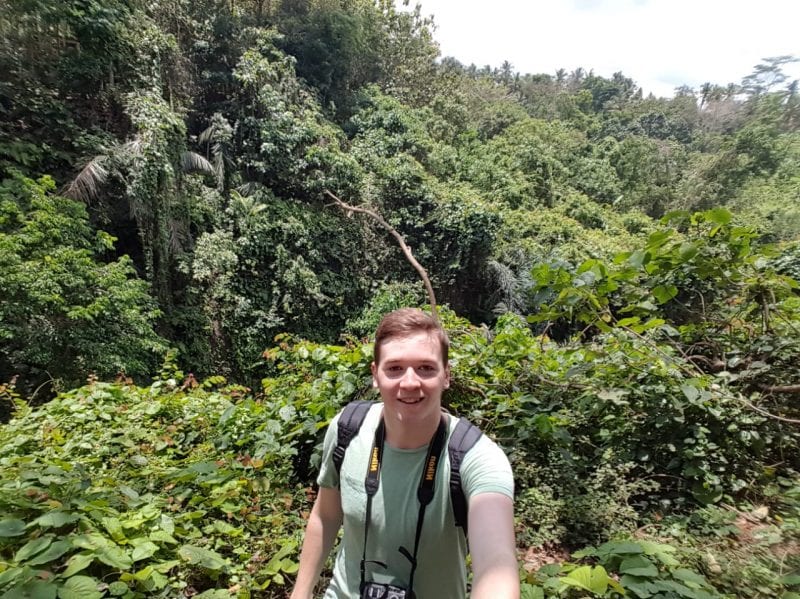 Merlijn Series 05: Bali part 01, Day 2.
Our second day(Saturday, September 8) was planned for the Monkey Forest and the Hard Rock Cafe. We texted our taxi driver(who also rents scooters) if we could rent a scooter for the day. Ten minutes later he had arrived with a scooter for us to take to the Monkey Forest.
We set up google maps, got comfortable and drove off to Ubud. After a long but stunning drive we arrived at the forest. We had only been in the forest for a few seconds before we already saw the first few monkeys. We took a few pictures and continued our way. A few minutes later we came across a monkey that was playing with some sort of ball, constantly pushing it around and throwing it. It was a humorous thing to look at.
A little bit further we came to a bigger open area with staircases around it. Below was a small river with fish in it and a field with monkeys on it. Across the field was a small pathway made from stones where visitors could walk so we decided to go there. Having crossed this pathway we got on a little balcony where a monkey was relaxing, I tried to make a selfie but my phone bugged out so it did not make a picture.
Further on we walked on a wooden bridge of sorts where a lot of monkeys were sitting on the ground. Crossing about 5 or 6 bigger monkeys with baby's is really cool, but also a bit scary at the same time. The monkeys got on people's backs and tried to get stuff out of their bags. It was definitely fun to see, but I am glad no monkey got on my head. The rest of the trip was also really beautiful and we walked through the forest for 2 or more hours before going to the Hard Rock Cafe.
After what was once again a pretty long drive we arrived at the Hard Rock Cafe. We went in the store and bought ourselves two HRC Bali T-shirts. We had a look at the cafe upstairs but there was nobody there so we decided to go to the beach. We rented two chairs and relaxed underneath our parasol for a bit. After having a cold drink in the hot weather we asked what it would cost to hire a surfboard. This was only 100K for an hour so we got one and went in the water. Neither one of us had any experience in surfing before so we fell all the time.
Balancing your body on a surfboard is harder than it looks and the moment you get up, it is even harder. We tried and we tried but we were not very successful at surfing. However, we still had a lot of fun trying! After falling for the 20th or 30th time we decided to get back to our chair to have another drink and relax.
Some time later we got hungry so we looked up a good restaurant nearby and had dinner. We went to ''Brazilian Aussie BBQ'' which was absolutely delicious. It is an all you can eat restaurant for about 180K where you get served meat at the table. After completely filling our stomach, we got back to the hotel and again straight to bed.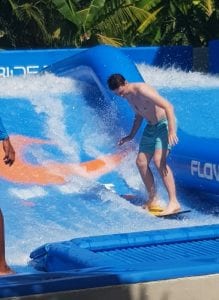 Merlijn Series 05: Bali part 01, Day 3.
We spent our third day(Sunday, September 9) for the biggest part in the Waterbom Park. Since we liked the scooter we rented the previous day, we decided to rent it until we would leave. The waterbom park was pretty close to our hotel so we got there rather fast. We dropped our stuff in the locker and the sunbeds and went on to the first slide.
The Waterbom park is home to so many slides, and every one is unique in its own way. There are slides which use tubes on which you can sit to go down the slide. The first one we did was the boomerang, this is a slide where you are sliding down a steep slide before being boomeranged up and later down again. It provides a real thrill when going back up so steep again.
After having done a numerous amount of slides we decided to have lunch. In the waterpark there are several restaurants where you can buy a snack. We had pizza and a hot dog, and they were delicious. We continued our day by relaxing in the pool and getting a drink at the pool bar, you basically sit on a stone stool inside the pool!
In the park there is the possibility to go on the Flowrider, this is a machine that creates a powerful stream of water upwards a wide wave like area. Anne did not want to go but I really wanted to give it a try. We bought a ticket (125K for half an hour) and waited for my turn.
My first try on the flowrider went really well, I did not fall instantly which was already a big success. After trying the flowrider board for a little while I decided to give the Bodyboard a go as well. You just lay down on this board with your legs behind you. It is easier to stay balanced because you can control the board better than when you are standing up. I got to do a few tricks with the assistance of our teacher and it was truly a lot of fun. After doing a few more slides and a bit of relaxing we got our stuff and went to Double Six Beach for dinner.
At the beach we got to this restaurant (B9B) which had bean bags on the beach with little tables in front. It looked super cool and relaxed so we sat down and had dinner here. Two guys came up and played live music which made the whole experience even better. We watched the sunset and stayed for a few hours just relaxing and enjoying the music before going back to our scooter.
Once we got to our scooter we drove for only 150 metres before stopping in a street with dozens of little stores. We walked around for about an hour, bought a few souvenirs and headed back to the hotel where we watched a movie before going to bed.