Merlijn Series 08: Lembang
Hi pals, welcome to  Merlijn Series 08; Lembang, Bandung.
Last weekend (28-29 September, 2018), my friends(who study in Indonesia) and I went on a trip to Lembang. We booked a villa for one night and started our small adventure.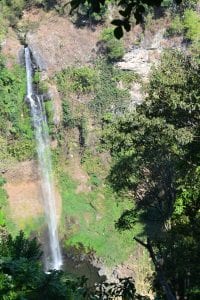 We got up on Friday morning at about 9 in the morning, got on our scooters to go to Ambrogio Patisserie where we had a delicious breakfast before continuing our journey to the villa. After some crazy roads with amazing views we arrived at our villa, unpacked our stuff and continued our way to the first item on the agenda: The Rainbow Waterfall.
Arriving at the waterfall we had to go down over 600 steps of stairs, finally making it down, it was all worth it. There were only three other people at the waterfall which provided us with an amazing view and calm environment to enjoy. After taking a lot of pictures we made our way up the 600+ stairs again, which was a challenge with the hot weather. Things like this is what makes studying in Indonesia amazing.
Afterwards, we went to the floating market. We walked around the lake and eventually decided it would be fun to go ATV riding. Unfortunately only two ATV's were available so two of my friends went for a ride. After having a little look around the market we decided to go to a supermarket close to the villa to get some food.
Since there was a barbecue, we decided to use it and in the end, it was a great idea. We had an amazing dinner with great food and then went to bed early, the next morning we had to get up really early to go to Tebing Keraton.
04:00, the alarm clock goes off, we get on our scooters and drive for about 45 minutes until we arrive at Tebing Keraton. Here we watched the sunrise together with a lot of other locals and tourists. Watching the sun rise behind the mountain is something to never forget. Around 6 o'clock we went back to our house and got into bed to get another few hours of sleep.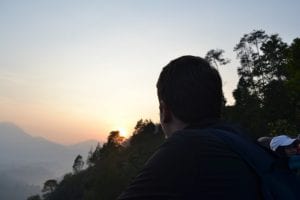 We woke up again at 10:30, had breakfast and got on our scooters to drive to Tangkuban Perahu where we watched the crater. Due to the smell of the air we quickly made our way down again and went to a Kopi Luwak place where we got a short tour around the store and we even got to hold a Luwak! We enjoyed a cup of coffee before going to the final stop of the weekend, a local tea plantation.
Once again we had an amazing weekend, we got to see the most wonderful things.
For anybody that has not yet visited Lembang, just go, it will be worth it.
I am grateful to Telkom University for allowing this to be part of my internship in Indonesia. I am having a wonderful time here in Indonesia and I can't wait to see more of this beautiful country. This is the best university for my internship.