Merlijn Series 10: Yogyakarta
Merlijn Series 10: Yogyakarta Borobudur and Prambanan temple
Our alarm went off at 6:00 on Thursday morning October, 25. We got our stuff, ordered a grab from Telkom University and made our way to the train station where we got on the train to Yogyakarta.
After an 8 hour long drive we finally arrived at the station. We got to our Guest House, dropped our bags and went out into the city. We were all pretty exhausted from the journey so we had dinner quite early at an amazing restaurant: Mediterranean. Afterwards we wandered around a bit going into some shops before going to bed. The next morning we would wake up at 4:00 to go to Borobudur.
So it was 4:00, the alarm clock rang and we were picked up at the guest house to be brought to borobudur. Borobudur is an absolutely beautiful, enormous temple with a wonderful view once you are on top. I can not imagine how much work was put into building this so many years ago. We took dozens of pictures before going to a restaurant to have breakfast.
Our taxi driver picked us up at the restaurant to continue the trip to Prambanan together with a few other tourists. After about 1.5 hours we arrived at the Prambanan temple. Prambanan and Borobudur are two completely different temples. Where Borobudur is one enormous building, Prambanan is a collection of several smaller temples. This creates for a unique experience when walking through all these smaller constructions. We had a short tour by train along the other temples before walking through a market towards the exit. Here we bought a few souvenirs to take home.
We rested a bit when we got back to our guest house before going out again. We decided to go to Malioboro street as this is where you can find hundreds of small shops selling all kinds of things. I bought some new Batik and two coins from the 1900's. There are so many amazing things to be found on these markets, you will never be bored.
That evening we went to Six Senses, a restaurant that was highly recommended. The ambiance was amazing and the food matched that quality standard. We had a lovely dinner before going back to our guest house where we just relaxed a bit before going to bed.
In only the first two days in Yogyakarta we had already done so much, and there was still a lot to see. Locals always ask us what we are doing in Indonesia, and I can proudly say that I am doing my internship at Telkom University, the best University in Indonesia.
The third day (Saturday October, 27), we decided to sleep in a little before going out. We had breakfast at our guest house and then walked to the royal palace.
The palace was quite big with beautiful buildings and structures inside. In some places, you could still see the Dutch influence that was present many years ago, this is pretty cool to see. We walked around for about an hour, looking at the buildings and the items that were found and stored.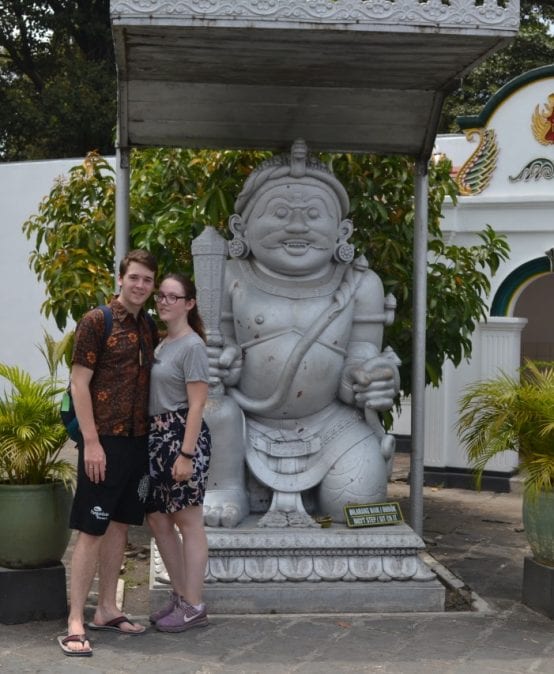 Next up was the Water castle, we used google maps to find our way but still couldn't find it. Luckily for us, the locals are supernice and a kind man showed us the way and even gave us a little tour. I did not expect the water castle to be so big, or at least all the things that come with the visiting of the castle. We first entered in the big ruin where you can get a nice view of all the houses. We then continued to the ''swimming pools'' where the sultan would have his wives swim while looking from above.
The kind old man then left but within a few minutes another tour guide was by our side guiding us to the underground mosque. It was great that these locals helped us out because we never would have found it on our own. The underground mosque had two levels, bottom level was for women whereas the top level was meant for the men. After the mosque our visit to the water castle was finished so we walked back to our guest house.
It was really hot so we cooled down in our room a bit before going back to Malioboro street to visit a few other malls and see some more shops. We once again bought quite a lot of things and saw some cool stuff. Afterwards we went to the Silver markets about three kilometres away. Unfortunately, all the shops closed at 17:00 and we got there 16:45. Luckily for us, one shop was still open so we could still have a look.
That evening we went to have dinner at a Thai restaurant called Yam Yam, the food was delicious and also quite cheap, the perfect combination I would say. On our way back we stopped at Alfamart to get some snacks for the next day before going back to the guest house and going to bed.
The next morning we got our stuff, handed over the keys to our room and got on the train back to Bandung. Due to something going wrong with the booking we had business class on our way back. It was a long and tiring ride but we made it back.
Weekends like these are what makes this the best internship possible. I couldn't imagine being able to visit all these places during my time here in Indonesia. Telkom University is the best place for my internship.