Merlijn Series 11: Joint Course UM
Exciting experience in Merlijn Series 11: Joint Course UM (University of Malaya, Malaysia) at Telkom University.
November, 2018, Telkom University is collaborating with University of Malaya for a Joint course program. This event week is organized annually and the mentioned Universities exchange students and staff members. This time, the event will last from November 4th until November 10th. During this time, Telkom University will organize several activities for the visitors to attend.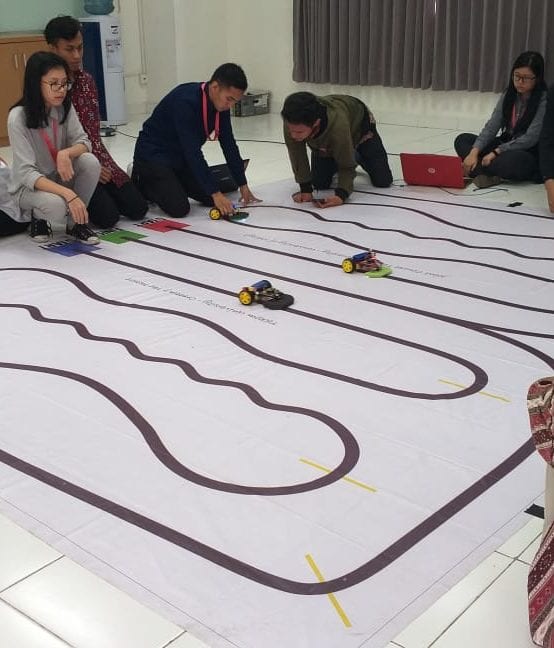 The joint course program was focussed around Robotics and Games. The theme was focussed back on in challenges where the students got to program their own robot to complete a racetrack without external control. The students were also able to build and play their own game.
Luckily, I was able to be part of the final day of their week and I joined them in visiting the local radio station, the Asia Afrika museum and eventually to saung angklung udjo. When we arrived at the radio station we were given a little presentation and we even got to go to the studio where we got to be part of the live broadcast.
The day then continued with a tour around the Asia Afrika museum with a movie about the history of the conference. We got to see the conference hall, which was massive and amazing. After the museum we went on to have lunch at a local restaurant where we had fried chicken with rice and vegetables, very delicious.
We ended the day in Saung Angklung Udjo. This is a place where you can enjoy part of the Sundanese culture. The show starts with a puppet performance and is followed by beautiful music and wonderful dances. The fun thing about this show is the fact that you get to play and dance along. We were all given an angklung and played famous songs. To end the show we got to dance with the locals which was a lot of fun.
The joint course has been a big succes year after year and Telkom University is glad to have such a good relationship with the University of Malaya. Having international relationships gives Telkom University the opportunity to provide their students with exchange programs, event weeks, study trips and much more to help them learn about the international world. I hope everyone had an exciting and educational week.
Getting to meet students from other Universities and other countries is always interesting. I am glad that things like this are part of my internship at Telkom University.