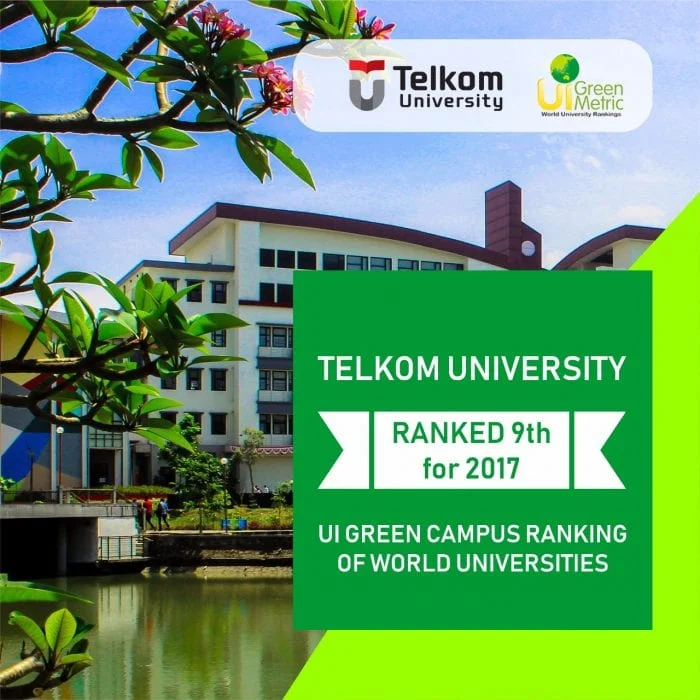 Telkom University Top 10 as a Green Campus in Indonesia
Telkom University is one of the Top 10 as a Green Campus in Indonesia based on GreenMetric UI. GreenMetric UI is the first university ranking system in the world based on the universities commitment on its environmental management. The indicators of the universities position in the ranking position are: university's green area (15%), waste management (18%), energy and climate change (21%), water used (10%), transportation (18%), and education (18).
Telkom University is one of universities around the world which committed to manage its environmental on its university.  Telkom University has been following this Greenmetric UI since 2014 and since then Telkom University's ranking been going up. This last 3 years, Telkom University was ranked 11th from all of universities nationally and ranked 1st in the private university category in Indonesia.
In 2017 Telkom University participated again in the Greenmetric 2017. Before, Telkom University already made some huge changes to make the university environmental friendly, such as:
Replacing regular PJU lamps with LED and Solar Cell lamps
Planting Trees.
Making a pond which works as the water absorbing area.
Greenhouse as the composting management place.
Planting incinerator machine for non-organic waste management.
Creating parks.
And managing other activities that support the idea of green campus.
Not only creating activities to support the idea of green campus, Telkom University also encouraging  its people to create a better surrounding, like annual activities of campus cleaning which participated by students, lectures, to clean their faculty area. Telkom University also encouraging its people to have a healthy lifestyle by providing area and equipment to work out or a comfortable paths for everyone who wants to walk or jog.
The commitment to be one of university which is environmental friendly is being supported by everyone who involved in Telkom University. Their eagerness to create a better environmental will bring a better cause. (Pooja/IO)
Source: gogreen.telkomuniversity.ac.id