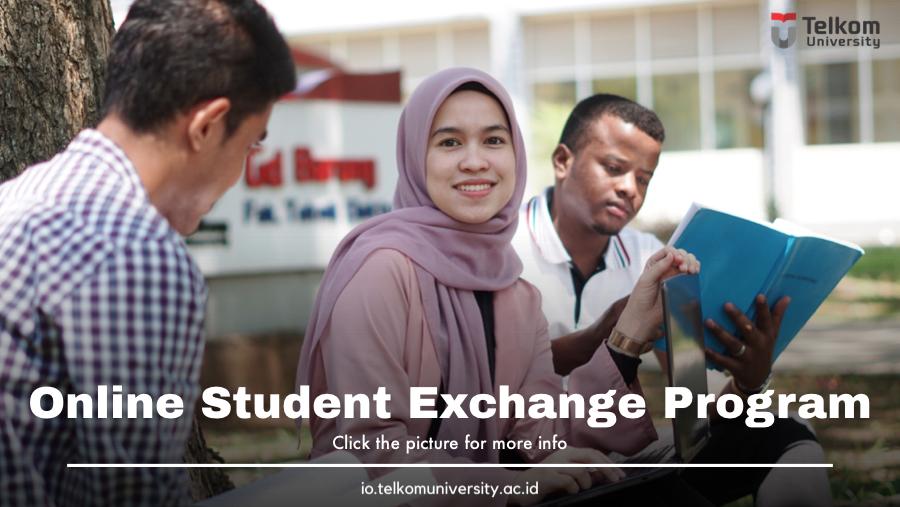 Online Student Exchange Program
Greetings from Telkom University, Bandung, Indonesia!
In order to cope with Covid-19 outbreak, Telkom University is shifting Student Exchange Program for Odd Semester 2021/2022 into an "Online Student Exchange Program". The program period is September 2021-January 2022 and it can be participated by only students from partner universities. Basically, it is the same program with the regular Student Exchange Program we have. The adjustment to the program was made due to the consideration of nowadays situation where currently the world is being hit by the spread of Covid-19.
What is it?
Online Student Exchange Program is a Student Exchange Program for Odd Semester 2021/2022 that is implemented online, where students from partner universities can attend lectures for 1 semester at Telkom University and get credit, online. Therefore, they don't have to come to Telkom University's campus in Bandung, Indonesia, to join this program.
Online Student Exchange Program
What is the benefit?
More affordable: no need to pay for travel, accommodation, and living expenses
More effective: getting international credit while staying at home
Simpler: no need to take care of documents for visas and study permit
Safer: preventing the risk of exposure to the virus while staying at home
What study programs are available?
International ICT Business
Industrial Engineering
Information System
Telecommunication Engineering
Informatics
Business Administration
Communication Science
Electrical Engineering
Visual Communication Design
Multimedia System
Note: Participants are normally enrolled in 3-6 academic courses or equal to 9-20 credits.
When does the program take place?
Here is the important date for Online Student Exchange Program for Even Semester 2020/2021:
| | |
| --- | --- |
| Date | Activity |
| Registration | Feb-Jul |
| Confirmation of Attendance | Jul-Aug |
| Announcement | Jun-Aug |
| Online meeting with Head of Study Program | Sep |
| Class begin | Sep |
What courses can be chosen?
You can click this link to check the complete list of subjects with their descriptions: LIST OF SUBJECTS
NOTE: Please note that ONLY subjects in semester 1, 3, and 5 that can be chosen for Online Student Exchange Program Odd Semester 2021/2022.
Facility

How to register?
Kindly click this link to register: https://io.telkomuniversity.ac.id/admission

(IO)***