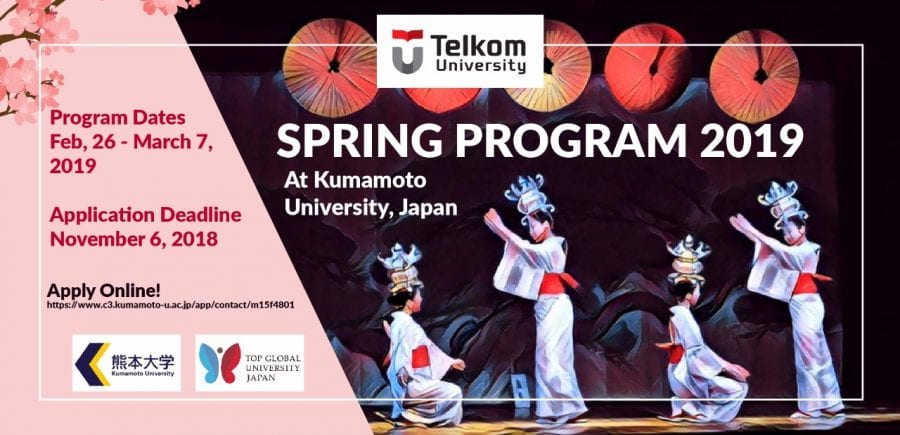 Telkom University in collaboration with Kumamoto University are pleased to inform you that Kumamoto University is now accepting applications for the Kumamoto University 2019 Spring Program. Details are as follows:
http://www.c3.kumamoto-u.ac.jp/en/4784
English Course Theme: Groundwater and Environmental Sustainability
*The English Course will be conducted entirely in English.
【Program Dates】
English Course: February 26, 2019 – March 7, 2019 (10 days)
【Program Participants】
English Course: 80 students
【Eligibility Criteria】
・Participants must be undergraduate students currently enrolled at a university with which Kumamoto University has an agreement for academic or student exchange.
・English language proficiency equal to or greater than IELTS level 5
・Participants who have been in Kumamoto Summer Program or Spring Program before are excluded.
・Participants must obtain travelers insurance in their home countries prior to departing for Japan.
・Kumamoto will cancel the Spring Program if the minimum of 20 participants is not gathered.
【Program Fee】
Participation fee (Required):  100,000 Japanese Yen
○ includes registration, class fees, accommodation, field trip fees, and breakfast.
× Does not include the cost of transportation to or from Japan, the cost of transportation within Japan, and the cost of meals (other than breakfast) during the program, or bank transfer fees.
【How to pay】
The Participation Fee must be paid in advance via bank transfer, in general from the home university by December 7, 2018.  Payment details will be announced after participant selection.
【Scholarship】
Participants who meet the necessary qualifications are eligible to receive a government scholarship worth 80,000 Japanese Yen, provided by the Japan Student Services Organization (JASSO) or Kumamoto University. We will provide the scholarship by cash at the orientation. Eligible students are those who meet the following criteria:
1)     Students who live in the following countries: Malaysia, Myanmar, Philippines, Thailand, Indonesia, Vietnam, Laos, Nepal, Cambodia.
2)     GPA greater than or equal to 2.3 (calculated according to JASSO regulations)
3)     Students may not receive any other scholarships for this program which exceed 80,000 Japanese Yen.
* Please note that there are a limited number of scholarships available, and they will be awarded based on the applicants' GPA scores. The result will be sent to the person in charge of the partner universities.
【How to Apply】
Please direct your students to inform you of their intention to apply to our program.  The program application itself is to be done online directly by the student.
Applications are to be submitted via the online registration form available at the following link:
https://www.c3.kumamoto-u.ac.jp/app/contact/m15f4801
*Deadline November 6, 2018 
**The following documents will need to be submitted by the student on the online application.
1)      Photocopy of the first page of passport
2)      Academic records from the previous year