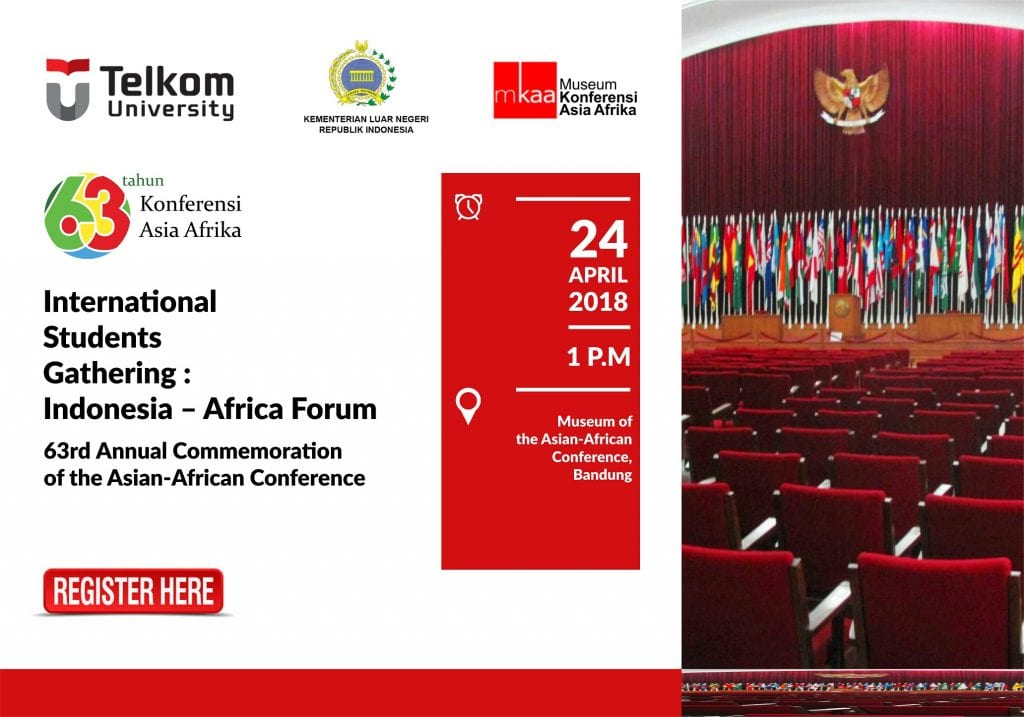 International Students Gathering: Indonesia – Africa Forum is a collaboration between Museum of the Asian-African Conference – the Ministry of Foreign Affairs and Telkom University.
To commemorate the Asian-African Conference that was held in Bandung 63 years ago, we cordially invite international students in Indonesia to join the International Students Gathering to get a sense of how the Bandung Spirit is being translated by the Indonesian government within the framework of cooperation between Indonesia and the African continent, one of the fastest growing regions in the world.
As a university with international visions, Telkom University has shown its commitments by engaging itself in various international events. This year, we proudly collaborate with Museum of the Asian-African Conference – the Ministry of Foreign Affairs to hold an international students gathering as a way to preserve the Bandung Spirit and to celebrate Bandung as the city with a long history of internationalism.
Telkom University has been a home for more than 221 foreign students from across Asia and Africa. Our purpose is to create world leaders by giving them relevant knowledge and skills through scholarships, as well as students exchange, short course, joint course, and many other possible programs. We strongly believe that what we do at Telkom University is also a realization of the Bandung Spirit within the framework of educational cooperation.
We are looking forward to meeting international students at the gathering that will be held on April 24th at Museum of the Asian-African Conference to discuss the cooperation between Indonesia and Africa, and what we can do to maximize the benefits for all parties involved.  For further information and program details can be Downloaded here.