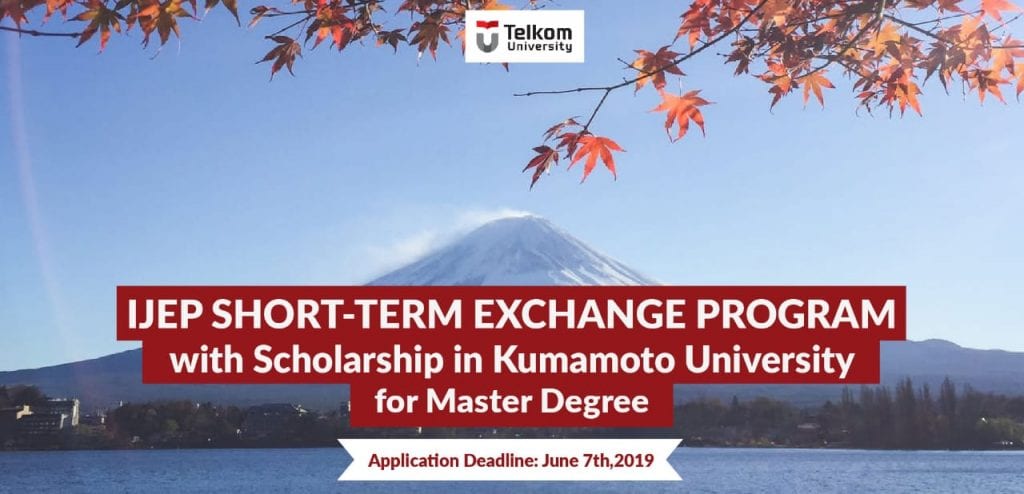 IJEP SHORT-TERM EXCHANGE PROGRAM WITH SCHOLARSHIP IN KUMAMOTO UNIVERSITY
GRADUATE SCHOOL OF SCIENCE AND TECHNOLOGY KUMAMOTO UNIVERSITY, JAPAN
Kumamoto University invited Telkom University students to join IJEP (International Joint Education Program for Science and Technology) Short-Term Exchange Program. This program accepts qualified graduate students from overseas universities and provides education and research in English for maximum one year.
Students in this program will belong to a laboratory to conduct a research project under the guidance of an academic supervisor in GSST (PDF). In addition, they are required to take some lectures related to topics in environmental issues and the field trip to learn about the natural resources and related social issues.
Program contents:
– Research project
– Lectures (certificate of credits will be issued)
– Field trip
– Final Report
– Midterm and final presentations
Duration of the Program:
6 months or 12 months from October, 2019
Candidates:
14 graduate students from the field of science and technology
Scholarship:
80,000 yen / month
Application Deadline:
June 7, 2019
Required Documents:
(1) Application form for Short-Term Exchange Program (Form 1).
(2) Certificate of Enrollment, including information such as expected date of completion.
(3) A letter of recommendation from a professor or a research supervisor who can evaluate the applicant's personality and ability in study and research.
(4) Official transcripts in English of academic records from Universitas Telkom, including information such as GPA and ranking.
(5) An official score of Test of English as a Foreign Language (TOEFL), Test of English for International Communications (TOEIC), or International English Language Testing System (IELTS).
Desirable scores are greater than:
71 for TOEFL-iBT
(530 for TOEFL-pBT),
700 for TOEIC, and
0 for IELTS.
Further information, please check website at: https://www.fast.kumamoto-u.ac.jp/gsst-en/special/
CONTACT:
International Office Telkom University, Bangkit Bulding (Rectorat Building), 1st Floor, Indonesia.
PIC                         : Mrs. Ayu
E- mail                   : [email protected]
Graduate School of Science and Technology, Kumamoto University 2-39-1 Kurokami, Chuo-ku, Kumamoto 860-8555, Japan
Phone                   : +81-96-342-3020
Email                     : [email protected]