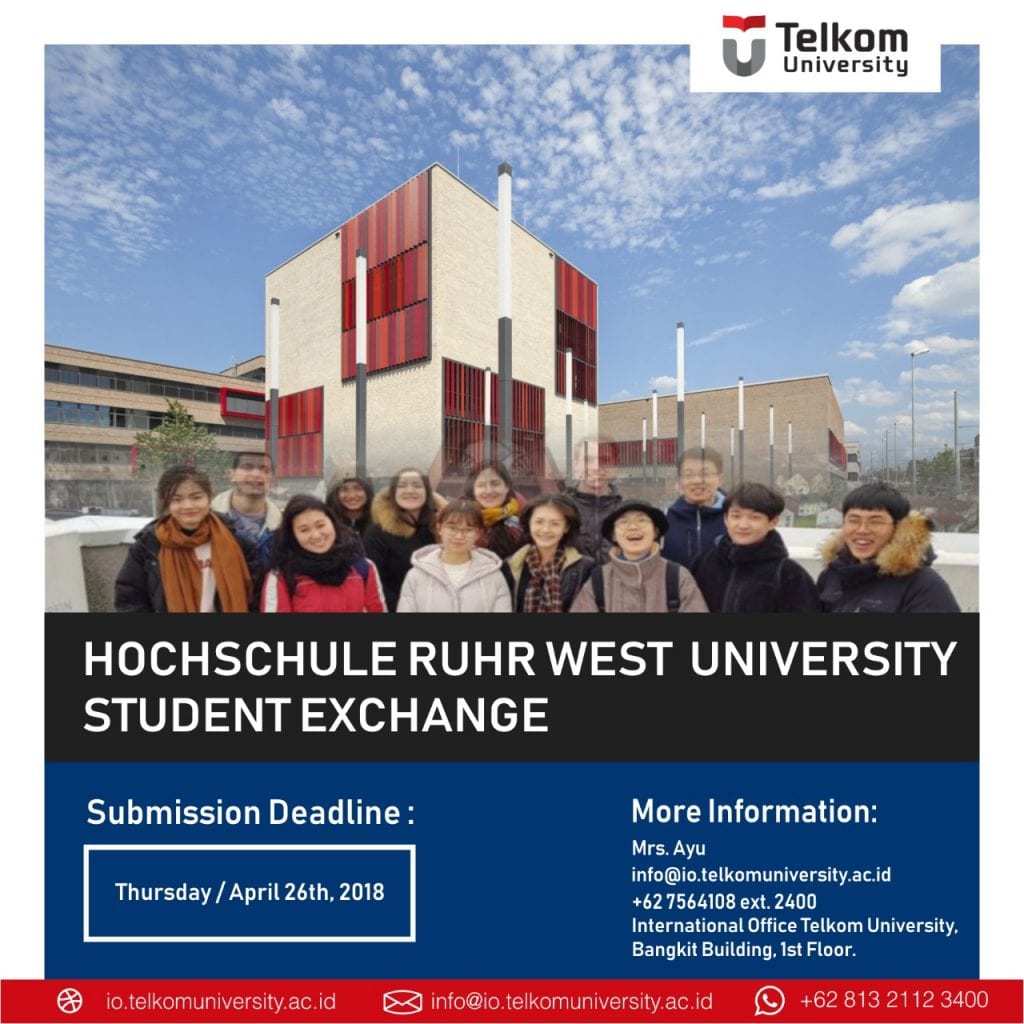 HRW University Student Exchange, Hochschule Ruhr West University invites Telkom University students to join the Student Exchange Program to spend one or more semesters studying at Ruhr West.
HOW TO APPLY
Submit to International Office Telkom University
Application Form (Download here)
Copy of Telkom University student ID
Curriculum vitae
Transcript of Record
Copy of your passport
Proof of Financial resources at least €670 per month, or €8,040 per academic
Please note: Although international students are allowed to work in Germany under certain conditions, you should not expect to work to cover the cost of your education at Ruhr West.
REQUIREMENT
English Language Certificate minimum B1 equal with:
IELTS : 4.0 – 5.0 or
TOEFL iBT (last change registered in October 2016) : 42 – 71 or
TOEFL iBT (Before October 2016) : 73 – 98.
Students in the field of business administration for spring semester
Students in the field of Engineering for winter semester
TUITION/FEES: currently €309.72 per semester
SEMESTER DATES:
PROGRAM CONTENTS
Please kindly check the details below:
https://en.hochschule-ruhr-west.de/study/international-students/exchange-students/
APPLICATION DEADLINE:
Day / Date             : Thursday / April 26th, 2018
Time                       : 3 pm
Place                      : International Office Telkom University, Bangkit Bulding (Rectorat Building), 1st Floor.
PIC                          : Mrs. Ayu
E- mail                    : [email protected]
Phone                    : +627564108 ext. 2400