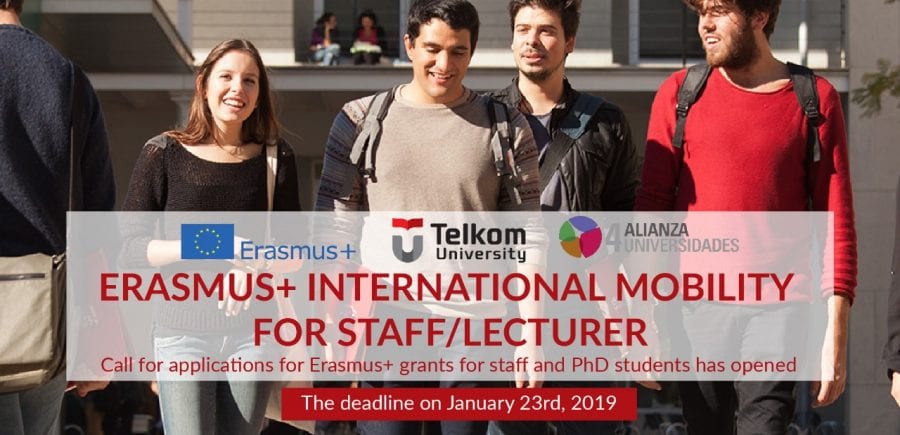 ERASMUS + SCHOLARSHIP FOR MOBILITY PROGRAM AVAILABLE FOR STAFF / LECTURER
The Alliance of 4 Universities (A4U) has been awarded funds (scholarship) under Erasmus+ International Credit Mobility Programme. Through these funds, Staff / Lecturer from Telkom University have the opportunity to participate in mobility schemes.
Application deadline for Staff/Lecturer mobility program 23 January 2019.
Who can apply? 
The calls are open to Staff / Lecturer from Telkom University.
How long can the mobility be? 
Duration of Stay: 5 days.
What expenses are covered by the grant? 
Grant Total: € 2.620 consist:
– Subsistence: € 160/day
– fixed travel to cover the flight expenses: € 1.500
When can the mobility be carried out? 
Mobilities under these calls can be carried out during 2018-2019 and 2019-2020, and should end before 31 July 2020.
What are the deadlines? 
Call Closes : 23 January 2019
Publication of Selection Result : 15 February 2019
What activities During Mobility?
Staff Mobility can be for Teaching, Training, or both can be combined. Teaching and administrative staff can apply, the former being preferred.
During mobility for teaching, staff are expected to deliver at least 8 hours of teaching
Mobility for training is for professional development of teaching and administrative staff in the form of training event (Excluding conferences), job shadowing, observation periods, or training at the receiving institution.
Mobility can also be for teaching and training. In this case, the minimum number of hours of teaching per week is 4 hours.
How to apply?
Read carefully the relevant call for application (Attachment)
Requirement of Staff / Lecturer
Program Contents
Kindly check the details below:
http://alliance4universities.eu/en/mobility-scholarships/
More Information :
E-Mail : [email protected]
International Office Telkom University
Bangkit Building 1st Floor,
Telkom University, Bandung, 40257