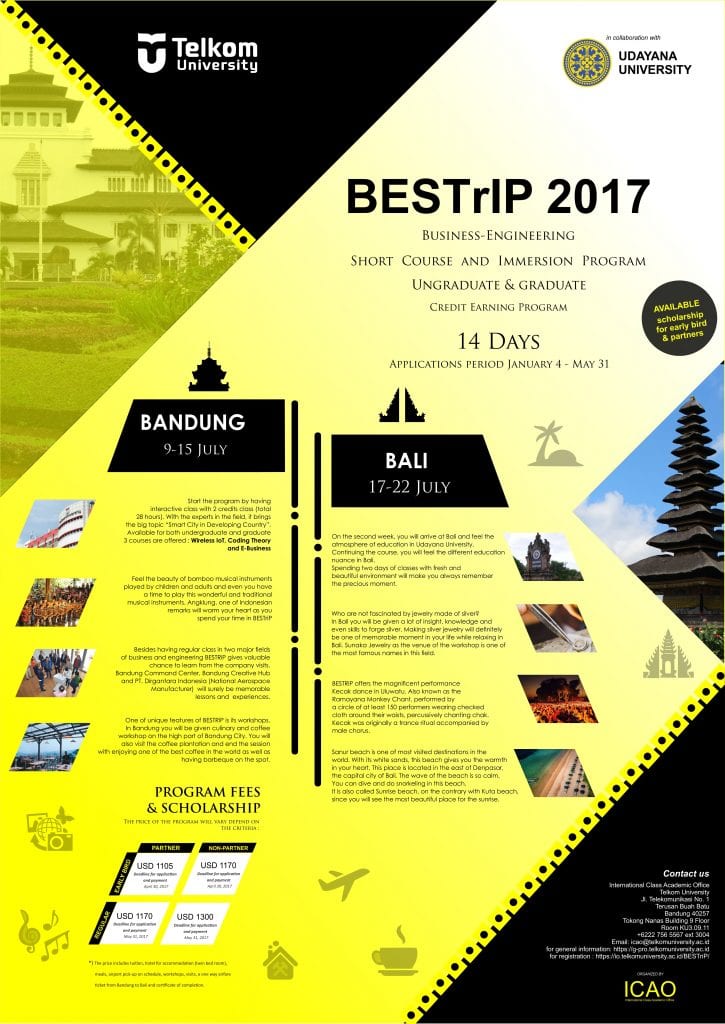 APPLICATION DEADLINE IS EXTENDED UNTIL JUNE 15th, 2017.
WELCOME TO BESTRIP
BESTrIP which stands for Business-Engineering Short Course and Immersion Program is an annual program conducted by Telkom University. It provides a two-week short course and immersion for all participants all around the globe in the field of business and engineering as well as providing rich exposure to diverse Indonesian social and multicultural life.
PROGRAM OVERVIEW
Telkom University offers BESTrIP (Business Engineering Short Course and Immersion Program) as a part of Global Academic Program that is aimed towards its vision to be World Class University. This program offers awesome opportunity for students abroad to taste the education and life in Indonesia with its diverse cultures and sites.
BESTrIP is held in two exotic and magnificent cities in Indonesia i.e Bandung and Bali in collaboration with Udayana University. The former city is where Telkom University located and the latter is where Udayana University is situated. Held for two weeks, BESTRiP offers two courses i.e Business and Engineering under the big topic of Smart City in Developing Countries. At the end of program, participants will receive a certificate of completion. Students are also provided convenient accommodation, multi-cuisine meals and transportation during their stay.
Besides having regular class, students are enriched with many outside valuable experiences. Vast workshops of cultures and business including making silver, dancing Indonesian traditional dance, making traditional bamboo instruments (angklung) are ready for them. Additionally, several visits to company sites are also well arranged.
CALENDAR
Overview of important dates and events for BESTrIP 2017 Telkom University
Application period  January 4 – May 31 (APPLICATION DEADLINE IS EXTENDED UNTIL JUNE 15th, 2017.)
Early registration     Deadline April 30
Program duration    14 Days
Credits of the class   2 credits (28 hours)
Class hours
Morning                09:00 – 12:00
Afternoon             14:00 – 16:00
COURSES OPTIONS
Business
In E-Business course, students will be exposed  to electronic business where companies undergo
business model transformation with selected case of Indonesian companies.
Engineering
In Wireless IoT course, students will be exposed to the wireless IoT systems as the prospective low-cost long range connected environment that transforms lives in smart city, particularly in developing countries, where minimal investment is required.
In Coding Theory course, students will learn the fundamental knowledge on information theory and coding theory, where almost all current information technologies are rooted  from. The lecture will also explore the basic knowledge required for future applications in 5G networks and beyond.
APPLICATION PROCESS
1. Visit Website
Find the initial information about BESTrIP on https://g-pro.telkomuniversity.ac.id /en/studentship/bestrip/
2. Apply Online
Register by applying online on the  link provided https://io.telkomuniversity.ac.id/BESTriP/
3.Submit Application
Fill out the form and complete the documents and requirements.
4.Complete Payment
Payments can be completed by wire  transfer only. Payment instructions  can be found on our website. There is no refund for cancellation after payment is made.
5.Receive Letter of Acceptance
Receive the Letter of Acceptance from us through e-mail. The letter of acceptance can be used to apply for visa.
6.Course Registration
Choose the course choice. There are three courses  provided Business and Engineering
PRICE
PARTNER
USD 1105 (EARLY BIRDS)
USD 1170 (REGULAR)
NON PARTNER
USD 1170 (EARLY BIRDS)
USD 1300 (REGULAR)
DEADLINES
APRIL 30 (EARLY BIRDS)
MAY 31 (REGULAR) – (APPLICATION DEADLINE IS EXTENDED UNTIL JUNE 15th, 2017).