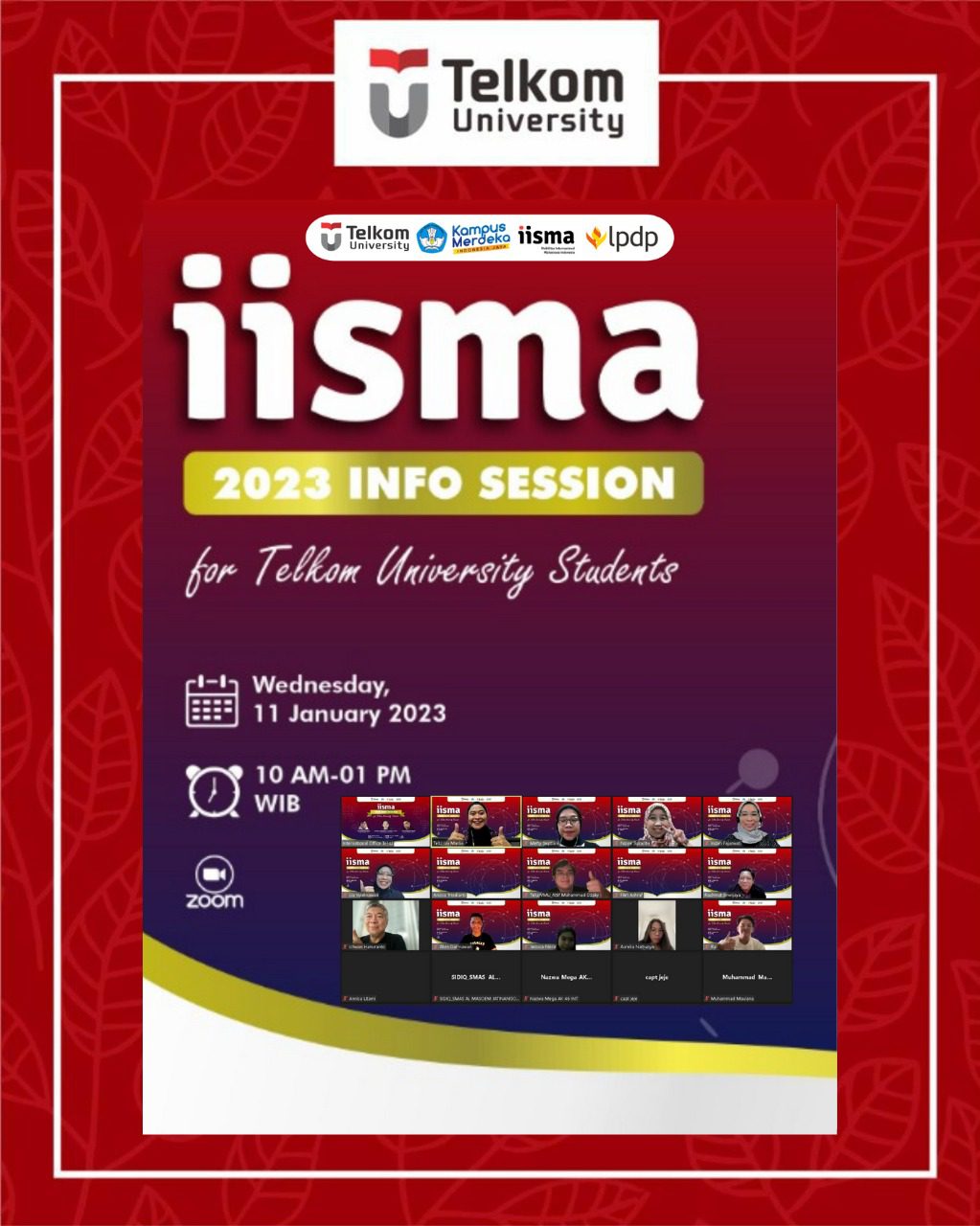 Info Session of IISMA 2023
Info Session of IISMA 2023. Info session of IISMA 2023 is a program intended to provide information as well as guidelines for Telkom University students in applying for IISMA 2023. This info session is also useful for the university team, especially the International Office and the faculty, in order to assist students to be better prepared to take part in the IISMA 2023 selection. Since 2021, International Office of Telkom University has conducted this info session at every upcoming IISMA as we are very enthusiast to facilitate our students in carrying out the international mobility program.
On January 11th, 2022 Telkom University presented speakers with the most IISMA knowledge to share the information to more than 160 participants in the IISMA 2023 Info Session. He is Dr. Eng. Ir. Rachmat A. Sriwijaya, S.T., M.T. a head of IISMA Program at the Ministry of Education and Culture. In addition, in this info session, to learn more about the IISMA, two Telkom University awardees were invited to share their hands-on experience participating in the IISMA. They are Attif Muhammad Dzaky, an IISMA 2022 Awardee, and Febry Mahendra Pratama, an IISMAVO 2022 awardee.
Info Session Highlights
In this info session, three incredible speakers delivered the information for several context and contents including:
Reasons to choose IISMA, it allows you to study at some of the world's best universities, experience the new culture, expand the international networks, and gaining knowledge of specific subjects
Registration process
Scholarship Coverage, this will include; registration and education fee, health insurance, cost of living allowance, flight costs and emergency fun
Terms and conditions
Timeline (Tentative)
Benefit of programs, this will include; get the opportunity to study for one semester at a foreign university, and build future competencies
Attif Muhammad Dzaky who is currently conducting an exchange program at Vytautas Magnus University in Lithuania and Febry Mahendra Pratama who is in the IU International University of Applied Science in Germany shared some knowledge, experience, tips and tricks in the info session for Telkom University students who also want to be part of IISMA and IISMAVO. Some of the tips and tricks that are delivered in this info session are:
Know your reason, need strong motivation like internal factors why you want apply for program
Don't hesitate to ask, read and research before you actually resorting to ask the committee
Maximize your potential
Be true to yourself
Watch and listen, copy, do more practice
Strategize when choosing the university
In this info session, all participants were very enthusiast as they actively involved in the discussion session. They are very excited and tend to be more curious about IISMA 2023 in this info session. Lots of inquiries from participants were asked during discussion session of the info session. Some of them, even, couldn't be answered due to limited time in this info session. But, don't worry, even though this info session is over they still can come to International Office or just drop their curiosity to International Office email. We will be glad to assist you all.
Those are the highlight of Info Session of IISMA 2023. So, are you ready to apply for IISMA 2023? Hope you're becoming the new faces of IISMA. Good luck!
(IO)***