Three Thailand Students Wish They Could Join Telkom University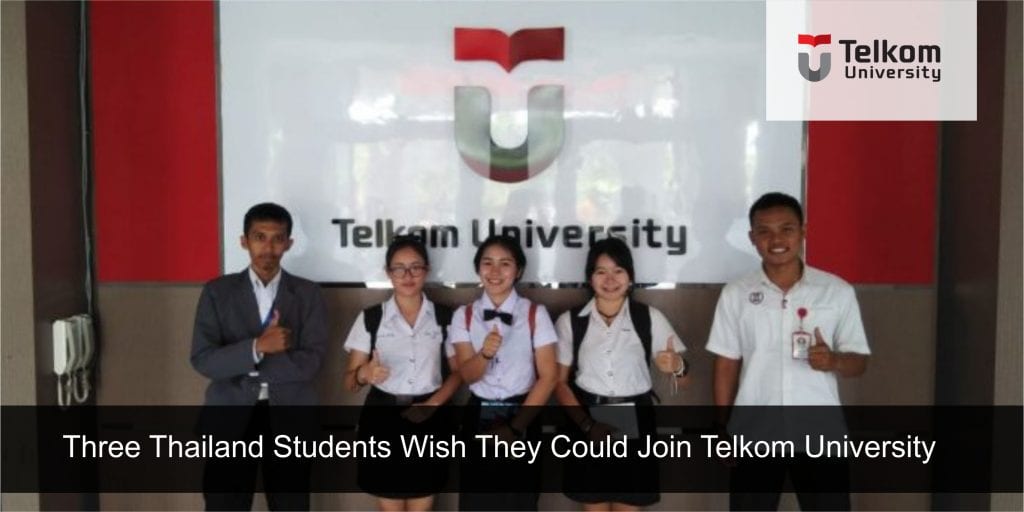 On March 19th, 2018 Telkom University has welcomed three students from Thailand who wants to know more about and wish to join Telkom University. They are Chamaiponr Todelang, Pornchita Phomrat, and Mueanfan Kanpricha. These students of Lopburi Technical College 2 and Phicit College of Agriculture and Technology, have spent five days in Indonesia, as they were chosen for the exchange program's student between their school and SMK Telkom Bandung. They are going to stay at SMK Telkom Bandung Dormitory for one month.
So while they were here, they are eager to visit Telkom University to know the campus further, especially the study program that matches with their education background. Mr. Setia Julia from Telkom University's School of Applied Science were welcoming them happily, and explained about the research, the program, and the facilities that the students can use to support their education at Telkom University. They visit the lab, the kitchen, and interact with some Telkom University's students.
Todelang, Phomrat, and Kanpricha were also have the opportunity to visit Telkom University Open Library and experienced all the facilities and services, such as Discussion Room, Refreshment Corner, and Multimedia Room. Moreover, after they heard about the summer course and scholarship program that Telkom University has for foreign students. It looks like Mr. Setia Julia brief about how to take challenge and take every opportunity we have to go abroad and go global, totally works. They're so satisfied with the library, and hope that one day they will have the opportunity to join Telkom University.
You are also welcome to visit Telkom University. You can use many program to do that, like our short course, summer course, student exchange, or any other opportunity. We are more than happy to show you around. We'll see you soon guys!