MoU Signing Tel-U and APiM
MoU Signing of Telkom University with APiM and Shafira on Wednesday, 3 October 2018 at Manterawu building 2nd floor, Telkom University. The meeting was attended by the representatives of all parties. From Telkom University, the Vice Rector III of Telkom University, Dr. Dida Diah Damajanti, director of International Office (Rinna Fridiana), Dean of Communication and Business Facult (Dr. Ade Irma), Dean of Creative Industries School (Dr. Didit Widiatmoko), manager and staffs of international office of Telkom University. Shafira was  represented by 3 delegates, followed by 6 delegates of APIM  with Dr. Suraya Ismail as the leader.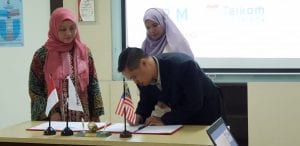 APIM International Academy Sdn Bhd(APIMIA) is an international personal and professional growth education in Commercial and Industrial, training and development and Consultation company a global educational enterprise committed to the fundamental principle that people have the possibility success, educated.
Telkom University and APiM is initiated the cooperation between the educational institution and the industry. The mixed education program will  combine the Indonesian and Malaysian business environment context matched with the industry (Shafira). Through this cooperation, we hope to improve the quality of our education to be world wide recognized.