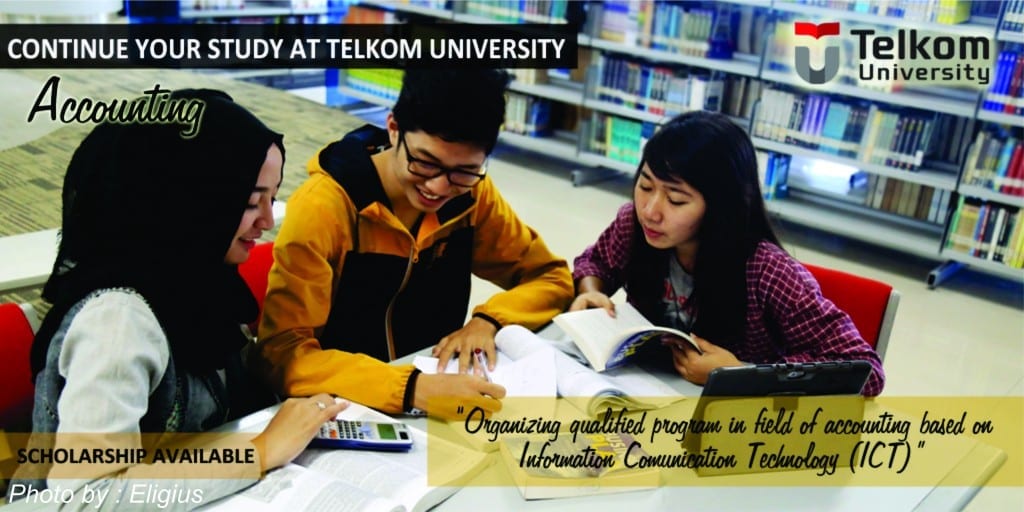 The Bachelor program of Accounting was established on March 28, 2008. With its uniqueness of two concentrations, namely Auditing and Management Accounting, the Bachelor program has courses that are derived from the core Competence-based-curriculum (CBC) and supporting CBC.
The Accounting Department first received its accreditation on July 12, 2012. Provided by the Telkom Professional Development Center, a 'B' accreditation was given by the Student Information Technology. An Internal Auditor certificate was received from the Internal Auditors Research Foundation of Indonesia.
Course Code

62201
Course Name
Accounting

Department Head

Yane Devi Anna, SE., M.Si., Ak
Department Secretary

Address

Jl. Telekomunikasi No. 1 – Terusan Buah Batu
Post Code
40257

City

Kab. Bandung
Telephone Number
+6222-7503055

Facsimile Number

+6222-7505522
Email Address

Website

www.telkomuniversity.acid
Title given
Bachelor of Economic (S.E)
Becoming an Independent Study Program and Excellent in the field of accounting based on Information Communication Technology (ICT).

Mission

Organizing qualified higher education, research and community service in ICT-based accounting and entrepreneurial
Competence

Form graduates who have a high personal integrity and excellent faith in God.
Produce graduates who have the knowledge and skills of ICT-based accounting.
Build an entrepreneurial spirit amongst the graduates who will have the ability to compete in the field of accounting, particularly in management accounting and auditing.
Produce qualified research or scientific papers in the fields of accounting and other relevant disciplines .
Implement community service relevant to the study program, to increase the public understanding of the field.