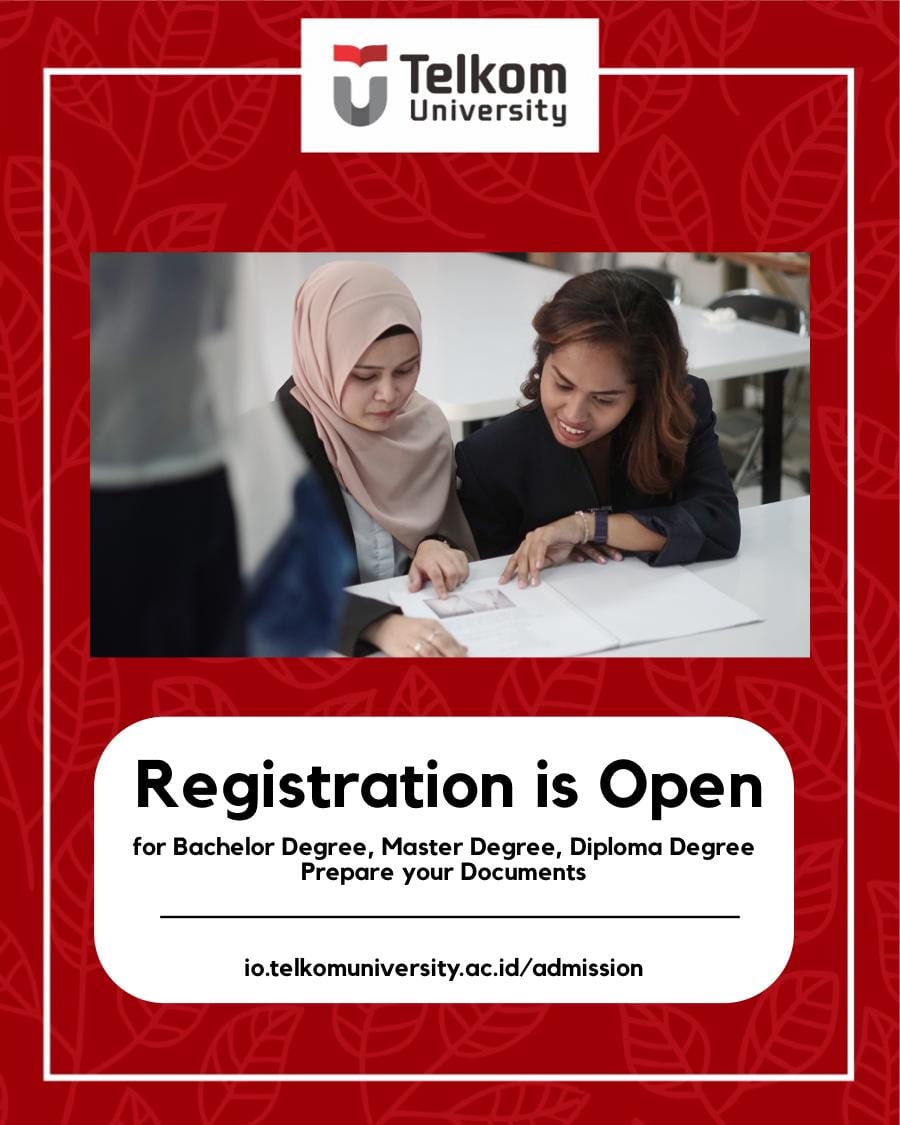 Registration is Open
Registration open. Telkom University, The Best Private University in Indonesia is open new admission for international students now. If you wish for global experience and creating the future, this could be the opportunity. Learn more about Telkom University by visiting our website io.telkomuniversity.ac.id.
What is the Program to Apply?
The upcoming registration is for degree and non-degree program. Telkom University is held bachelor degree program (4 years), diploma degree program (3 years), and master degree program (2 years). We have 32 study programs for engineering and non-engineering fields. If you wish to learn more about the study program and faculty, just click this link: https://io.telkomuniversity.ac.id/school-faculty/
We also have many mobility programs, such as student exchange for students from partner universities. But students from non-partner universities also welcomed to experience study in Telkom University by joining "Credit Earning" program. To read more about other program, kindly go to this link: https://io.telkomuniversity.ac.id/future-student/international-student-program/
To cope with Covid-19 pandemic, Telkom University also provides online mobility program, such as Online Student Exchange Program. Kindly click this link to learn more: https://io.telkomuniversity.ac.id/online-student-exchange/
Registration Open Now
Is scholarship available?
The answer is YES. Telkom University has been provided scholarship for international students for many years. If you meet our qualification, you could be the one who deserves our scholarship. You can get the scholarship information at this link: https://io.telkomuniversity.ac.id/telkom-university-scholarship-program/
How to Apply?
The registration is online, you can apply here: https://io.telkomuniversity.ac.id/admission. There are some documents that you need to prepare for the registration, below are the details:
Diploma & Bachelor Degree Program
High school certificate
High school transcript
Personal statement
Passport
Statement of Compliance to Rules
Formal photo (red background)
Master Degree Program
Bachelor degree certificate
Bachelor degree transcript
Passport
Statement of compliance
Formal photo (red background)
Reference letter
Curriculum Vitae
Thesis plan
TOEFL/IELTS Certificate
Student Exchange
Passport
Personal statement
Transcript
Formal photo (red background)
Short Course
Passport
Formal photo (red background)
Go to https://io.telkomuniversity.ac.id/registration/ to learn about the registration.
Should you need any assistance for your application, do not hesitate to contact us at:
Whatsapp: +62 81321123400
Email: admission@io.telkomuniversity.ac.id
*in publication and Indonesia Ministry of Research and Higher Education Rank 2019