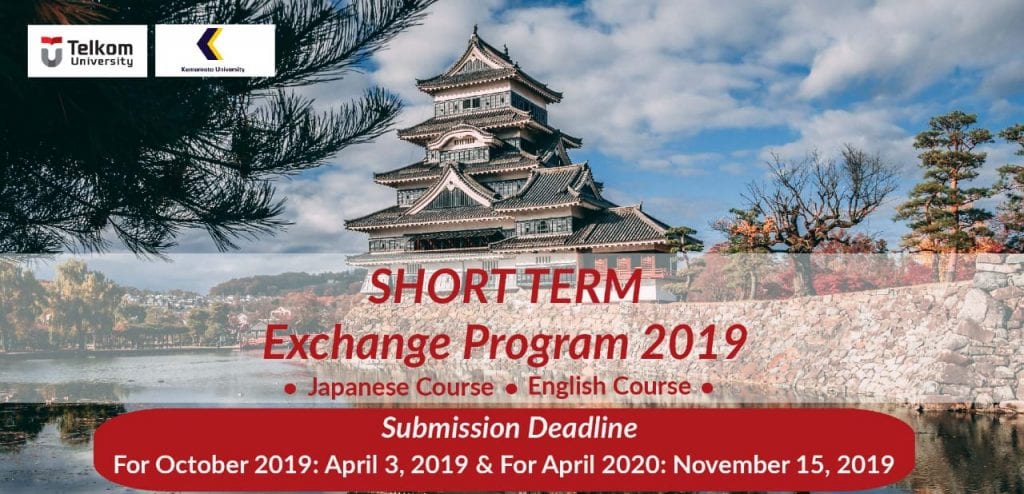 Kumamoto University Short-Term Undergraduate Exchange Program October 2019
FALL SEMESTER 2019
Kumamoto University invited Telkom University students to join exchange Program offered by the College of Cross-Cultural and Multidisciplinary Studies.
PROGRAM DETAILS
Japanese Course (J Course):
Third Year undergraduate students.
Students mainly take classes in specialized subject in Japanese language and Japanese Studies.
Having Japanese ability equivalent to JLPT N3 or more
English Course (E Course):
Third Year undergraduate students.
The English Course will be conducted entirely in English.
Students can take Japanese language and Japanese Studies classes.
Having English ability equivalent to a TOEFL iBT score of 61 or more
PERIOD
Students are acceptances for term of a half or one year that starts in either October 2019 or April 2020
SCHOLARSHIP
Participants who meet the necessary qualifications may be eligible to receive a government (JASSO) scholarship
APPLICANT QUALIFICATIONS
Applicants should currently be full-time third year graduated
Applicants should be physically and mentally capable of completing their studies.
REQUIREMENT
Application Form could be downloaded from
Application form for Certificate of Eligibility
Application form for Applying to Rent a Room at the International House
Certificate of Enrollment (Issued by Telkom University)
Academic Record (Official Telkom University Transcript)
Letter of Recommendation
Health Certificate
Certificate of Financial Support (certificate of bank account balance, certificate of income, etc.)
Four Photographs (40mmX30mm)
Copy of the first page of the passport.
Required Documents related to Language Proficiency:
Japanese language proficiency equal to or greater than JLPT N3.
TOEFL iBT score of 61 or more
APPLICATION PROCEDURE
Please kindly check the details below:
https://www.c3.kumamoto-u.ac.jp/app/contact/g1c779ed
PROGRAM CONTENTS
Please kindly check the details below:
https://ewww.kumamoto-u.ac.jp/media/medialibrary/2019/01/STEP_2019_brochure.pdf
*Program Contents subject to change
APPLICATION DEADLINE FOR SUBMISSION
Day / Date:
For attendance starting in October 2019: April 3, 2019
For attendance starting in April 2020: November 15, 2019
Time: 3 pm
Place: International Office Telkom University, Bangkit Bulding (Rectorat Building), 1st Floor.
PIC: Mrs. Ayu
E- mail: [email protected]