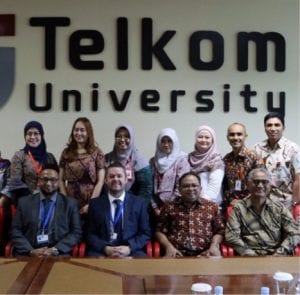 Three Telkom University's Faculties Aimed for ASIC Accreditation
Bandung, Many achievements have been achieved by Telkom university in the last 5 years, such as accredited A BAN-PT, ISO 20000, Tesca Smart Campus Award, Abest21, Best School of management and Visual, and many more.
Telkom University doesn't stop there, again, the University that located in the South part of Bandung City ran the accreditation process for ASIC (Accreditation for International Schools, Colleges, and Universities) which based in UK.
Accreditation of ASIC helps the Institute to implement sustainable quality assurance systems, develop comprehensive internal audit systems, build strategic partnerships worldwide, leverage ethical marketing strategies, gain international recognition, and build beneficial partnership in the professional education sector around the world.
Mr. Lee Hammond as CEO of ASIC & Dr. Oesman Suleman as Assessor directly asses Telkom University on 15th May 2018. There were series of activities took place on that day, such as visiting to several University's facilities; Auditorium, Parking Systems, Green House, Student Mart, Business Center, Student Center, Clinic, Dormitory, Telkom University Convention Hall, Open Library and Bandung Techno Park.
The accreditation process was held in 5th floor of Bangkit building, and were attended by all of the academicians of Telkom University, and this meeting also discussed about Academic, Information Systems, Scholarships, Student Exchange, etc. According to the plan, the faculties that will be accredited are; Faculty of Business Communication, Faculty of Business Economics and Faculty of Creative Industry.